Plus: The Color Combo That Works Every time!!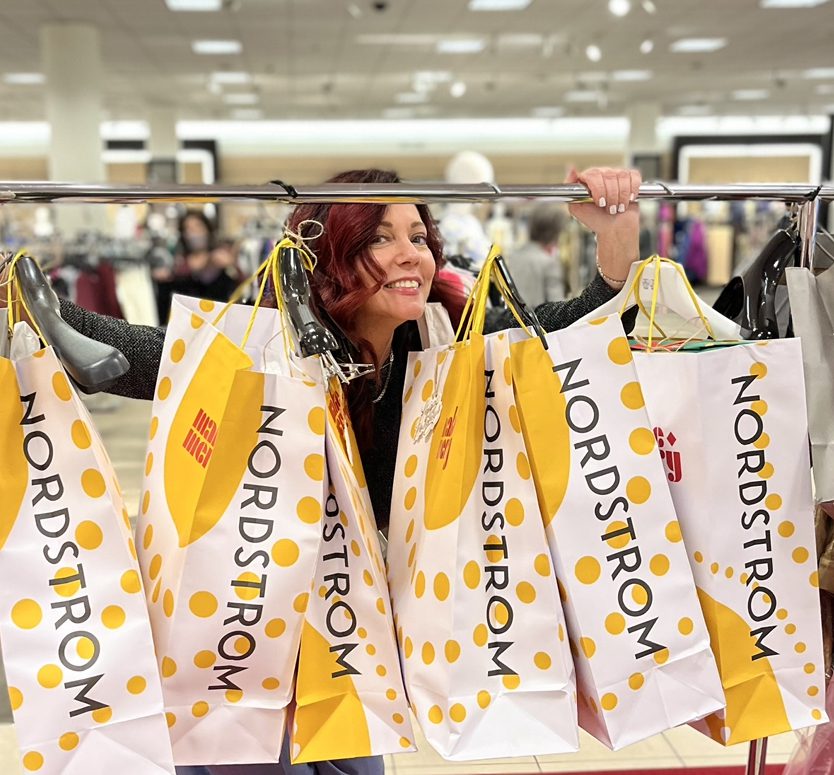 As a VIP Personal Stylist at Nordstrom, my job is to edit our huge inventory to bring you the best of the best! Here are my latest finds that I think are worthy of your attention 🙂 <Drumroll please>
-TOP PICKS OF THE WEEK-
New Alexander Wang
A fresh delivery of Alexander Wang arrived today and trust me, its fabulous! Check out the rhinestone encrusted cuff on the ivory shirt ( also available in black here ).

Elija J Sequin Stunner, $188
Nine times out of ten, I get requests for long sleeve special occasion dresses. This one is a stunner! I mean how pretty is this Elija J sequin dress, I love the shape of these bell sleeves. You can always count on this brand to bring quality and style without breaking the bank. Check out these gorgeous new Jimmy Choo's that I found here.
Golden Goose Mid Star Sneakers $560- $800
It's a Christmas miracle!! I was looking for the black Golden Goose Mid-Star sneaker for one of my daughters but they were all sold out (even personal stylist that 'live in-store' strike out too sometimes) … until now! If you're a big fan of the mid ankle height as well, hurry before they're sold out again. Tap here to view more.
Beaded Lariat Necklace $430
My Mom asked asked me today what I'd like for Christmas… I'm sending her a link for this fun & cool accessory!! This will add so much personality and style to any wardrobe. I can't wait to style this with a white button down shirt or on top of sheer turtleneck.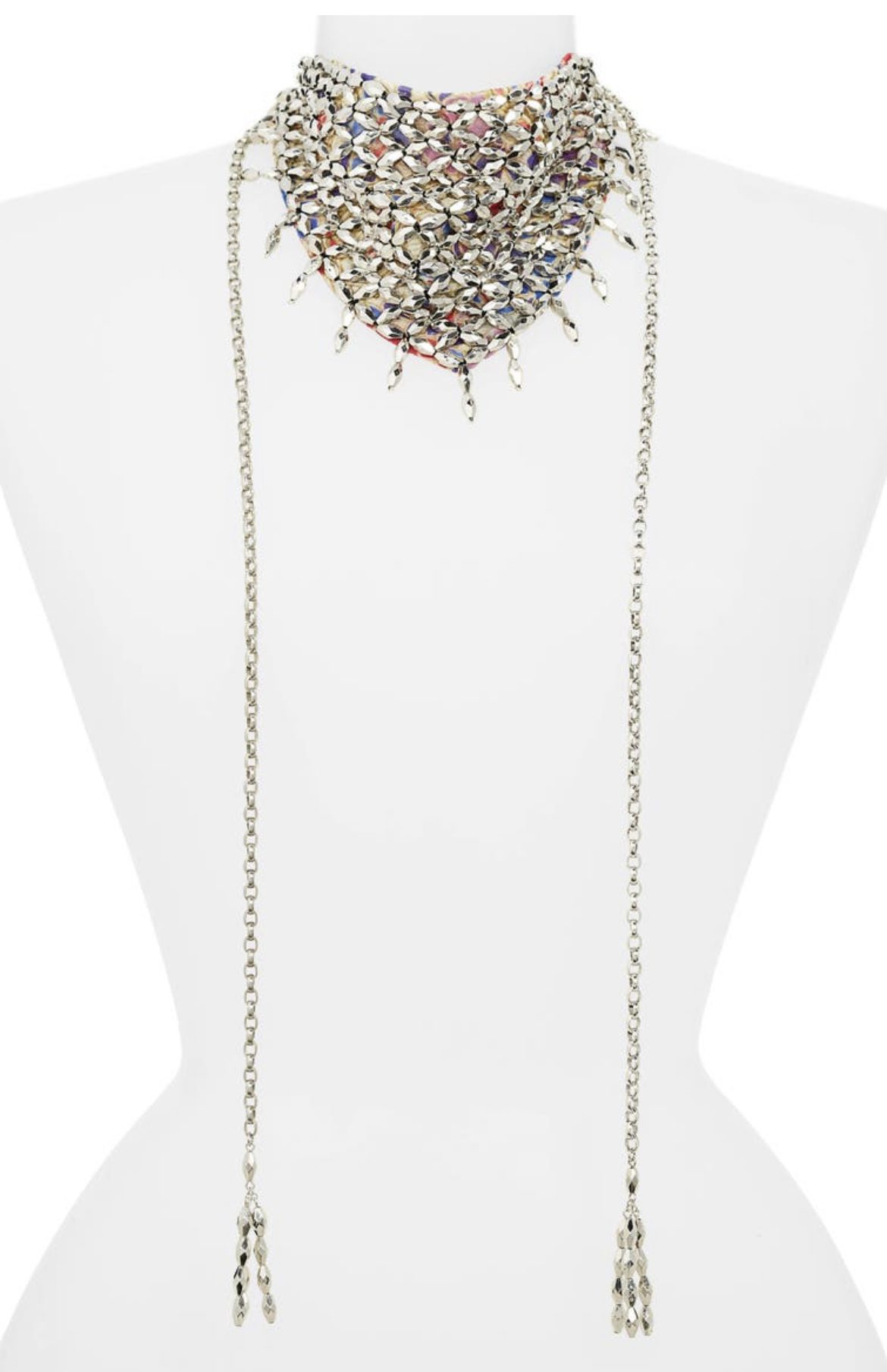 "You Go Girl" Dress
I've been loving black dresses lately – probably because a black knit dress is no-brainer during the crazy busy holiday retail season! I wore a button down black knit dress this week that I was super impressed with. If you missed it, the link is here. The black dress below is great for the gal with curves who is not afraid to flaunt it! Thats why I'm calling this the "You go girl" dress 🙂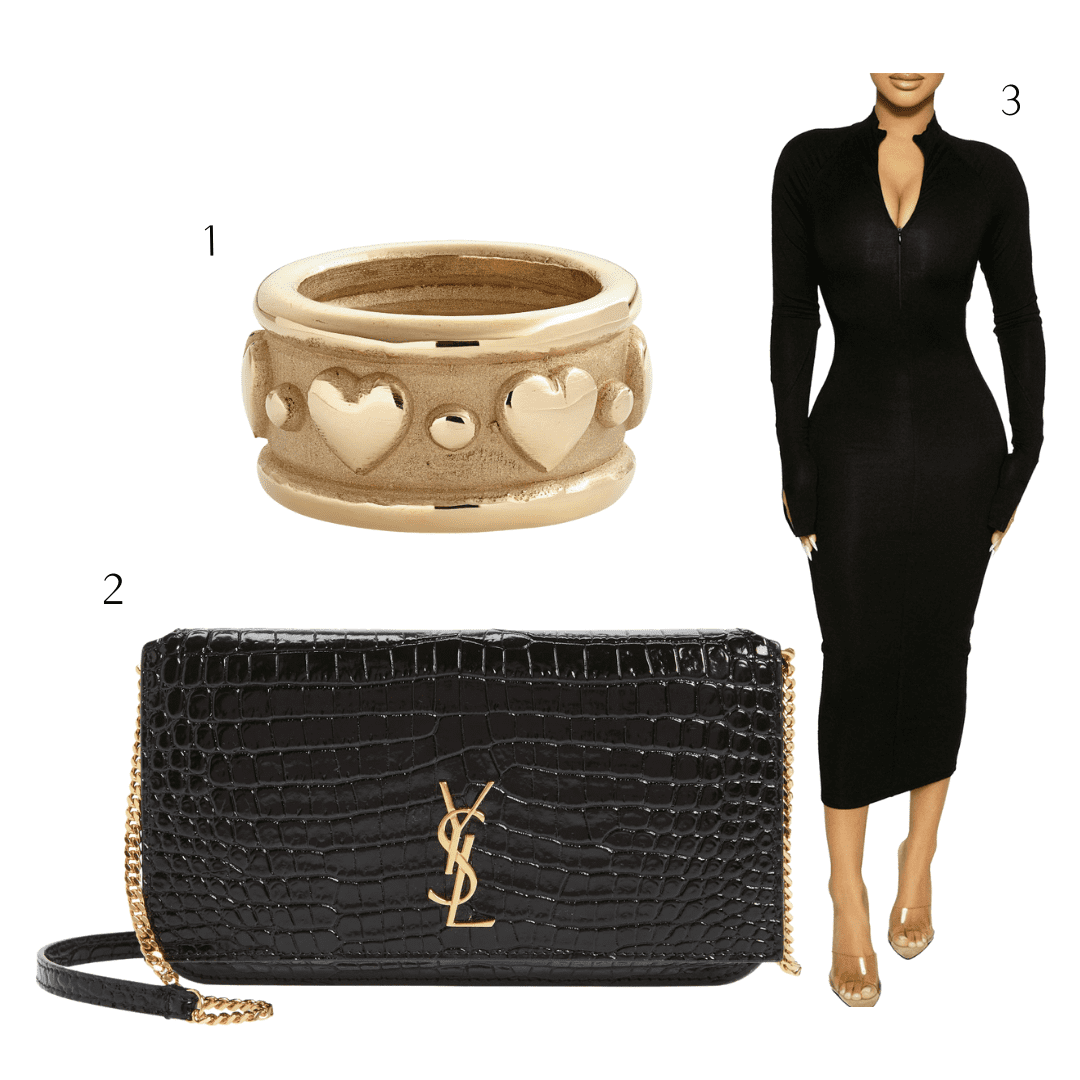 Gold Ring $110
New Burberry Scarves
These iconic scarves make great gifts!! I love them because are tissue weight and can be used year round. Add to black, ivory, red, gray, charcoal, or powder blue sweaters or coats for a splash of pattern. RoseKnows tip: wear as a sarong over your swim suit.

The Dress That ALWAYS Sells Out!
This pretty silk wrap dress and its mini sister here is a great seller because its perfect for so many occasions and looks great on everyone! Love this NEW Alexander McQueen scarf here priced at $345 and these pewter mules here (available in gold too).
Statement Necklace and Bracelet
How pretty are these hand made eco-friendly resin pieces by Dauphinette! Check out the pretty one of a kind paper weights too. This is a truly unique and thoughtful gift.
MORE Unique Gifts
The North Face Puffers $250
These puffers will keep you so warm while looking oh sooo cool 🙂 Shop here. I love the Burberry version of this too, shop here. Not just for the slopes, they look exceptionally cool worn with high rise jeans ; )
Check out a few more fresh finds…

---
Last but not least…
Gucci Cross Body $2100, buy here .

---
Thank you so much for reading and supporting my small biz. Love & blessings to you and your families this holiday season, rose