I'm a true SHOPAHOLIC! Certainly not the cheapest addiction but at least its legal : )
I can shop anywhere, any time. You know you're in the right profession when you can work/shop all day then come home and shop/blog all night! When I first started in retail, I told the store manager that I loved shopping so much with my 'new friends' (aka clients) that I would do it for free …… Circle back to 2021, its now how I pay for my addiction : ) #shoppingpro
---
A FEW OF MY FINDS
Chunky Hand Knit Color Block Cardigan
My eyes did a bee line to this bright & happy piece here. The stack of 'one size fits all' sweaters was head and shoulders better than the rest! I've layered it on top of the party dress below but it would be equally great with jeans and a white shirt.
The mismatched yarn and patch work pattern give this sweater a cozy hand made look. Let everyone think someone special knitted it just for you! Yes, this would make an awesome gift : ) There is even a matching beanie here.
I think you will like these winners too! Popcorn sweater here and Free People cardigan here.
Party Dress
This bronze tiered taffeta dress here in the very front of the store is what drew me in. The silk taffeta-like fabric, the deep V neckline, the fitted bodice with voluminous tiers had me swooning. So perfect for a wedding or party, and don't forget New Years Eve! The understated bronze color juxtaposes beautifully with the dramatic silhouette.
Check out this party dress here for $79 and this beauty here too!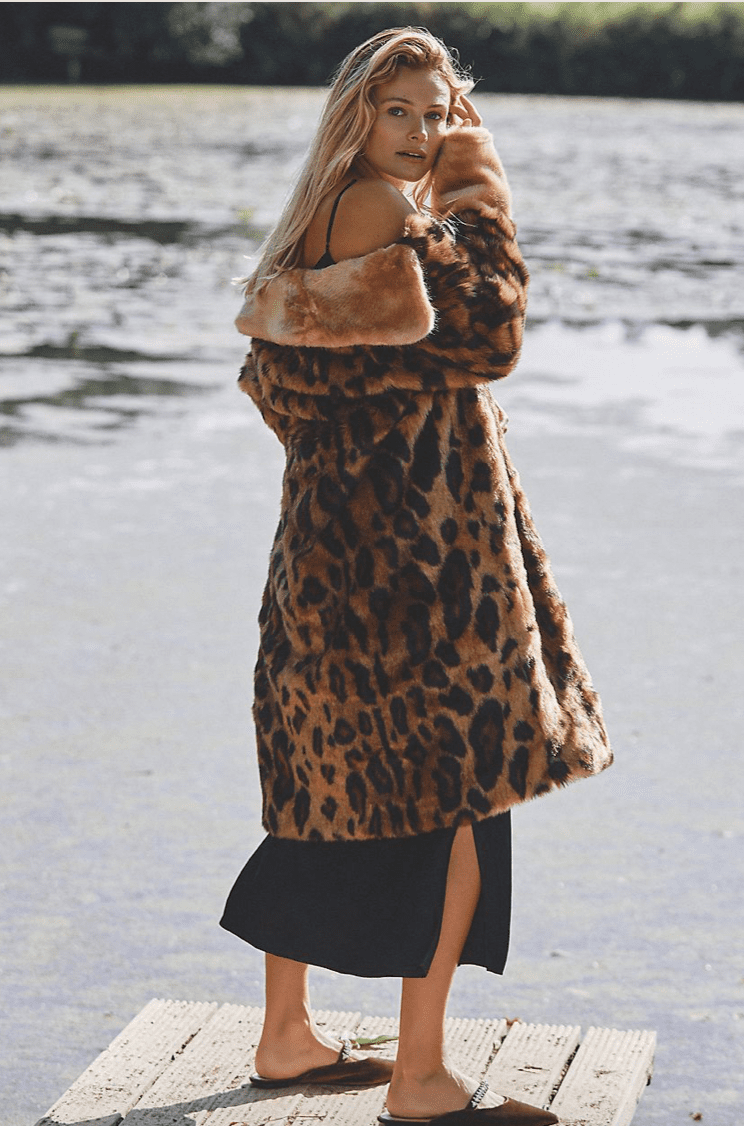 Leopard Faux Fur Coat
Just when I thought I had enough leopard pieces, I see this faux fur leopard beauty here. Can I justify another coat? Can I justify another leopard coat? Can I fit another coat in my coat closet :/ All valid questions I'm asking myself while literally drafting this blog post on the plane wearing a R13 leopard cotton trench! Hopefully you won't have to wrestle as much with this purchase because I promise – its truly fabulous!!
Also, one of my favorite leopard coats by Zadig & Voltaire is now on sale here. BB Dakota has a great dupe of the highly coveted max mara leopard version for only $169 here .
---
Pretty Coats That Steal The Show
Ever since the square toe Botegga Veneta grass green slide and matching bag arrived on the scene, I've been obsessed with this fresh color! Just like the colors in nature, you may be surprised how well this color will harmonize with just about everything in your closet. Lately I've been craving a coat in this yummy shade of green. Check out my grass green coats here:

---
new style boards
1

---
2

---
give the gift of GUCCI

---
Thank you for reading and make sure to subscribe above so you never miss a post! xx, rose