Mother Muscle Tee (similar here) | R13 tote | BP Sandals | Cargo skirt

The Nordstrom Anniversary Sale is going strong and there are still so many great finds in all categories that you may have missed. Prices go back up on August 7th so now is the best time to stock up on all the deals on essentials for you and your entire family!

As a Nordstrom Stylist who has worked 16 Anniversary sales, I have the inside scoop on all things Nordstrom! That means the inside scoop on the top sellers, what items were bought heavily, what is still available and what was most saved in wish lists. In fact, I was recently asked by Senior Editor Bobby Schuessler at Who What Wear "what to buy on the Anniversary sale this year?" You can read it here.

So what are great basics and essentials you may ask. These are the items you wear and use everyday. From replenishing bras & panties new to a new winter coat to beauty essentials like your favorite hair and body products. Now's the best time to buy these essentials that NEVER go on sale. It's also a good time to treat yourself so try that new fragrance you've been thinking about while the savings are so good! You can read my latest post about my own recent shopping spree here.


*Ps. Did you know that you can shop all my Anniversary sale boards in one place on my LikeToKnowIt Shop? I've posted over 70 Nsale boards and have them all in one spot. Shop the Nsale collection-> here.
Insider Tip: If an item is sold out, keep checking and add a notification alert. Because returns and exchanges start right about now, inventory changes every hour. You can always reach out to me at @rosehayes on Instagram or email rose.hayes@nordstrom.com. My assistant and I have a pile that we check routinely and we would love to score that special item for you!

**As of last night, everything I've linked on this post was in-stock in most sizes and available to order. I've done the research so you don't have to 🙂 Happy Anniversary and feel free to share this post with anyone who also loves a great deal! As always thank you so much, I appreciate you so much!!



1 | FOR THE GUYS
Vince Boots  $269.99 now, $395 after sale

I'm often asked to help husbands look a little more modern and fresh. I love helping guys find their style and update their look with new jeans (that actually fit well), a nice third piece like a blazer, a few dress shirts, a new quarter zip, and casual tees and of course a great pair of boots, shoes and sneaks. Check these Mens Anniversary boards.
left: 1 | 2 | 3 | 4 | 5 | 6 | 7
 
right: 1 | 2 | 3 | 4 | 5 | 6 | 7 | 8 | 9 

I was amazed to see so many great Mens Designer Shoes + Boots on the sale this year!
2 | BRAS + PANTIES

True & Co. | Hanky Pankies 
Replenish your undergarments. I had a dear friend who always told me that every time you buy a new bra and underwear, throw one or two out! That's a great tip, get rid of anything tired and dingy and replace with new pretty bras and panties.

Have you tried True & Co. bras? They have been a game changer for me because they are amazingly comfortable like wearing nothing at all! They are the perfect t-shirt bra to wear everyday. The soft form v-neck is a low cut bralette. They're new to the sale at $31.99 now and will be $49 after the sale.

Chantelle and Natori are favorites as well. I love that you can match your bras and panties too.
Hanky Pankies are notoriously favorite Nordstrom Anniversary top sellers.


3 | COATS + OUTERWEAR

1 | 2 | 3 | 4 | 5 | 6 | 7 | 8 

I always recommend investing in the best classic wool wrap or trench that you can afford. This piece will last a lifetime! You'll save a ton if you can score a great investment coat on the Nsale. There are many brands this year and at all price points from St. John to Steve Madden.

Here are a few favs that are still in stock

4 | STOCK UP ON NEW DENIM
Jeans have become a staple and really are the backbone of a great wardrobe. But not any jeans, stick with the brands and styles that have been consistent winners! You can wear denim casually of course but try a sharp blazer like this one here and now you are ready for anything 🙂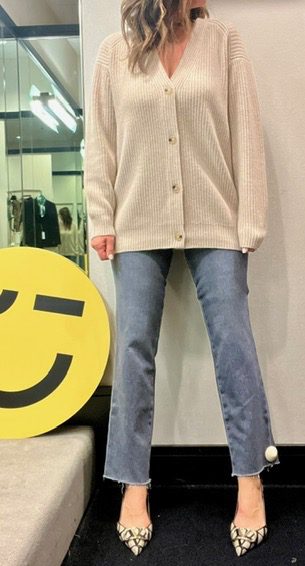 Vince Cashmere Cardigan (3 colors) | Paige Jeans | Valentino Kitten Heels 
The Paige Cindy has been a fan favorite! You can trim this raw hem yourself if needed or ask for a fitter to cut them, They should hit right above your ankle. I love how gray jeans work so well with rich camel colors. Reach for the Paige Cindy in gray especially when blue feels too casual, black feels too harsh, and white feels too summery. They are the golden ticket and just what your closet is missing!

I love white jeans in the summer but ECRU jeans transition to fall so seamlessly.
#1 Flaherty dress (sold out) and shirt | Rag and Bone jeans | Tru Bra | Birkenstocks | Blondo Boots | Raffia tote

#2 Tom Ford sunnies | Hat | Cashmere Scarf | Booties (3 colors) | Rag and Bone jeans | Cashmere sweater | ysl crossbody (not on the sale)| Gold Diamond Bangles 


Just today I saw these faux leather pants by French Connection and was very impressed. Thats a lot of look for only $74.99! Shop them and a few other in stock anniversary finds:

5 | THE COZY ESSENTIALS
UGG SLIPPERS NOW $69.99 AFTER SALE $100
I've stocked top on Barefoot Dreams blankets and robes for my family for the past few years. They make great gifts and everyone loves to snuggle up with a cozy blanket and good book. There are a few new patterns this year too.
Check out all my cozy finds:


6 | QUALITY 'INVESTMENT' ESSENTIALS
Vince makes great quality basics and essentials that will last forever! No trendy fads with Vince, you'll always look chic and stylish! I just checked and there are plenty of sizes in Vince inventory so check out the anniversary sale assortment here.


Fine Jewelry Investment Essentials just may be on my wish list;)

7 | DESIGNER SUNNIES
Raybans | R13 Shirt | Agolde Cargo Pants | Amina Slingbacks  
If there is one accessory that can UP YOUR FASHION GAME, its a cool pair of designer sunglasses! Throw them on and just about anything will look elevated! You'll l feel 10x cooler, I promise!

I was pleasantly surprised to see my favorite styles still available by Tom Ford, Dior, Fendi, and Gucci and more! Shop all Anniversary designer sunnies here.


8 | LBD'S TO HAVE ON STAND-BY
There were many black column and knit dresses on the Anniversary sale this year. You can't go wrong with a little black dress for any impromtu occasion that comes up. Here are a few amazing deals on LBD's currently in stock to consider:


9 | HOME FINDS
Just today I picked up a few down pillows and a linen duvet cover by Piglet In Bed (above). We have guests visiting this summer so a guest bedroom refresh was in order! The sale was perfecting timing.

Stock up on the candles you use all year. I always repurpose the empty pretty candle jars afterwards to hold makeup brushes and eye pencils . Grab a few extra sets for gifts, you'll thank me later!

I also picked up a Viking Frying Pan set of 2 for an extra holiday gift. It was a $150 value for $99!

Check out these Home Deals:
SHOP HOME BOARD HERE
10 | SHOES + BOOTS
1 | 2 | 3 | 4 | 5 | 6 | 7 

Shop More Anniversary Shoes + Boots

Thank you for reading, xx rose