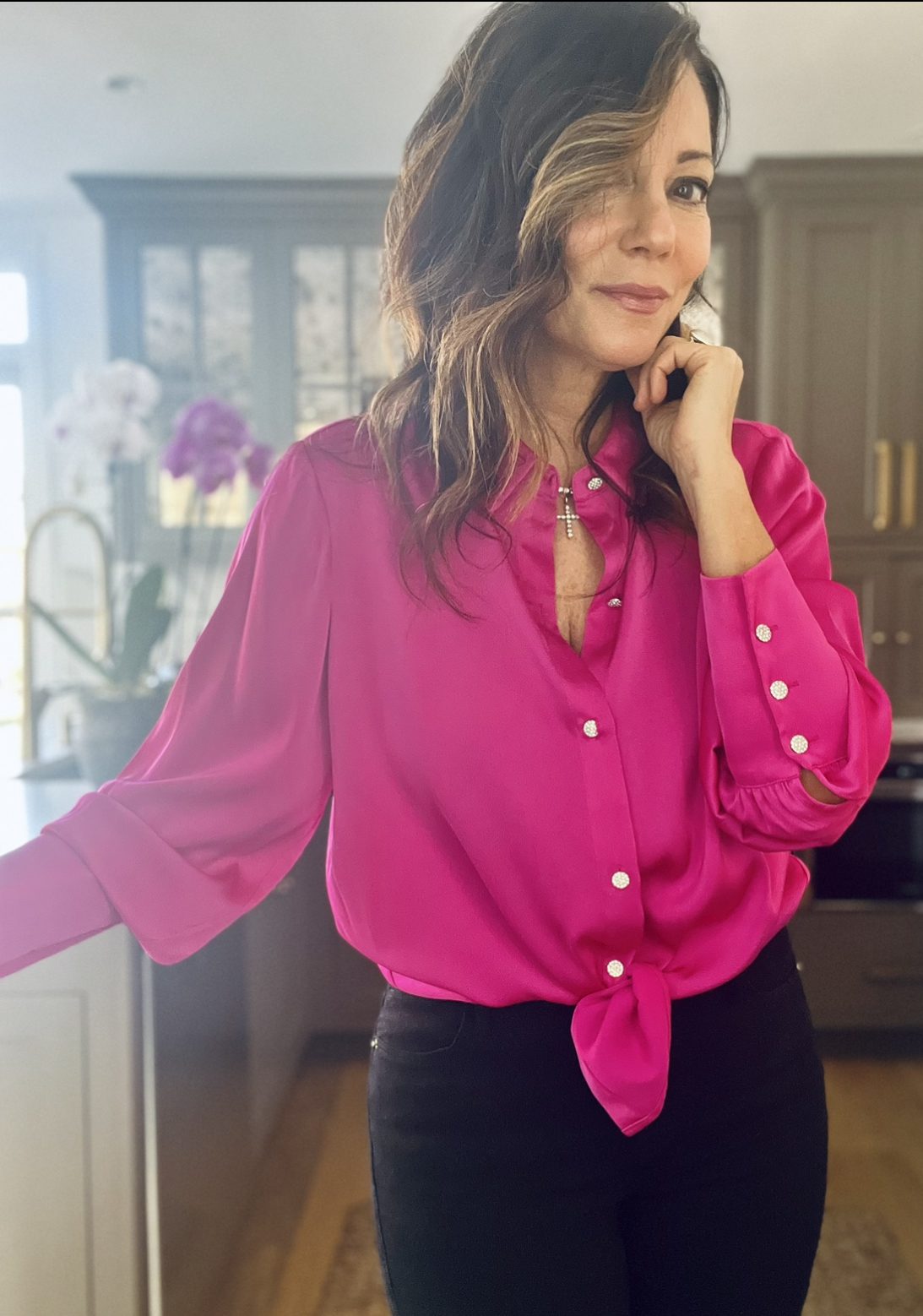 <shop my festive $89 blouse here>
Shopping is what I do for a living, however it's also my passion. To be a Nordstrom expert, I scour the online assortment, the designer lookbooks, and the in-store inventory. Getting ready for styling appointments, I go to every corner of the store gathering the best and latest. I love discovering new gems for you so this post is about the pieces that are perfect for November, and many are under $100. Here are a few of my latest finds, most of which I've purchased for myself!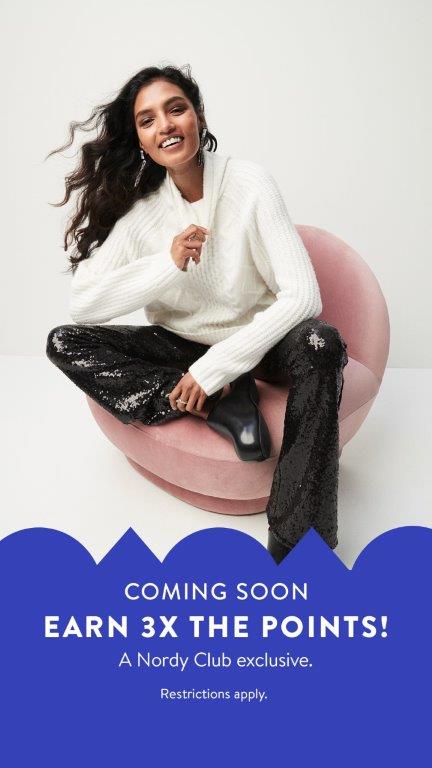 *FYI: 9 POINTS PER DOLLAR STARTS NOVEMBER 9 – 13
* MANY HAVE ASKED HOW YOU CAN SHOP WITH ME SO THAT I'LL RECEIVE CREDIT. THANK YOU SO MUCH IN ADVANCE, ITS EASY! SIMPLY CLICK ON THIS NORDSTROM LINK (OR ANY CLICKABLE LINK below) AND SHOP AWAY! I TRULY APPRECIATE THIS ADDED STEP MORE THAN YOU KNOW!
1 – GOLD TOTE ($41)
Have you started your holiday shopping yet? Here's an idea: take this $41 tote (gold or black) and add a barefoot dreams blanket or pj's & socks or whatever you'd like to stuff inside. A gorgeous holiday bow on the handle and you've got a great gift to give! My mama loves a big tote so I'll be adding her favorite perfume and stocking stuffers. No one would ever guess you spent under $50 for this stellar tote 🙂 This will work as a great work tote or carry-on as well!
---
2 – PINK SATIN PARTY PICKS
I adore this orchid pink color! It's so lovely – vibrant and fun. If wearing full-on, head-to-toe pink is too editorial for your tastes, try mixing in some grays, black, or ivory to tone down the vibrancy. Or try the opposite – add more color. Pistachio or even red plays very nice with this shade of pink so have fun!
Ps. One of my customers who vacations in Italy all summer came back with a fashion recap. She reported that pink and olive color combos were seen everywhere on the streets and in shops. Just wait, you'll be seeing it everywhere here too.
*The pink blouse I'm wearing above is very similar in color (scroll back to the top for that link)

---
3 – HIGH WAIST WIDE LEG JEANS
Recently one of my beautiful clients came in for a "casual running around" wardrobe update. We styled these jeans with the Valentino platform chelsea boots and kept the hem long and ever so slightly puddled. Then we added an oversized wool shacket <here> She looked so cool that I had to order these jeans in my size asap! I usually size up in Mother jeans and these were no exception. I'll be keeping the length as long as possible but they still needed a hem. Trust me, they're the ultimate must-have denim – you will feel so cool in these too!
<linked here>
---
4 – ALICE & OLIVIA PUFF SLEEVE NOVELTY SILK TOP
So pretty and versatile. I recently did a reel showing this top worn many ways.
< shop here >
---
5 – RAILS WOOL BLEND COAT & PRETTY REISS BLOUSE
How fab is this coat?!! I love everything about it, from the soft elegant color to the double breasted style which can be worn loose or belted wrap style which is very flattering. It's slightly shorter than the similar Reiss coat here. Add your favorite jeans to this duo and you're looking sharp my friend 🙂 Priced at $425, don't think twice because this is a great chic dress coat.
<shop sand coat and blouse here>
---
6 – GOLD BOOTS
Are gold boots a necessity? No but they certainly can elevate your style a notch or two 🙂 When I first saw the pricey mirrored gold Jimmy Choo tall boots, I thought 'how fabulous' … but then these gems came along and checked all the boxes. Chic – check, comfortable – check, affordable – check. Plus that cool slouchy silhouette reminds me of the Alexander Wang denim boots that I really liked. These have a 'western dip' at the top too … done (y'all know how I feel about western) I had to have them! If gold is not your vibe, try the black version instead here. You can't beat the comfort!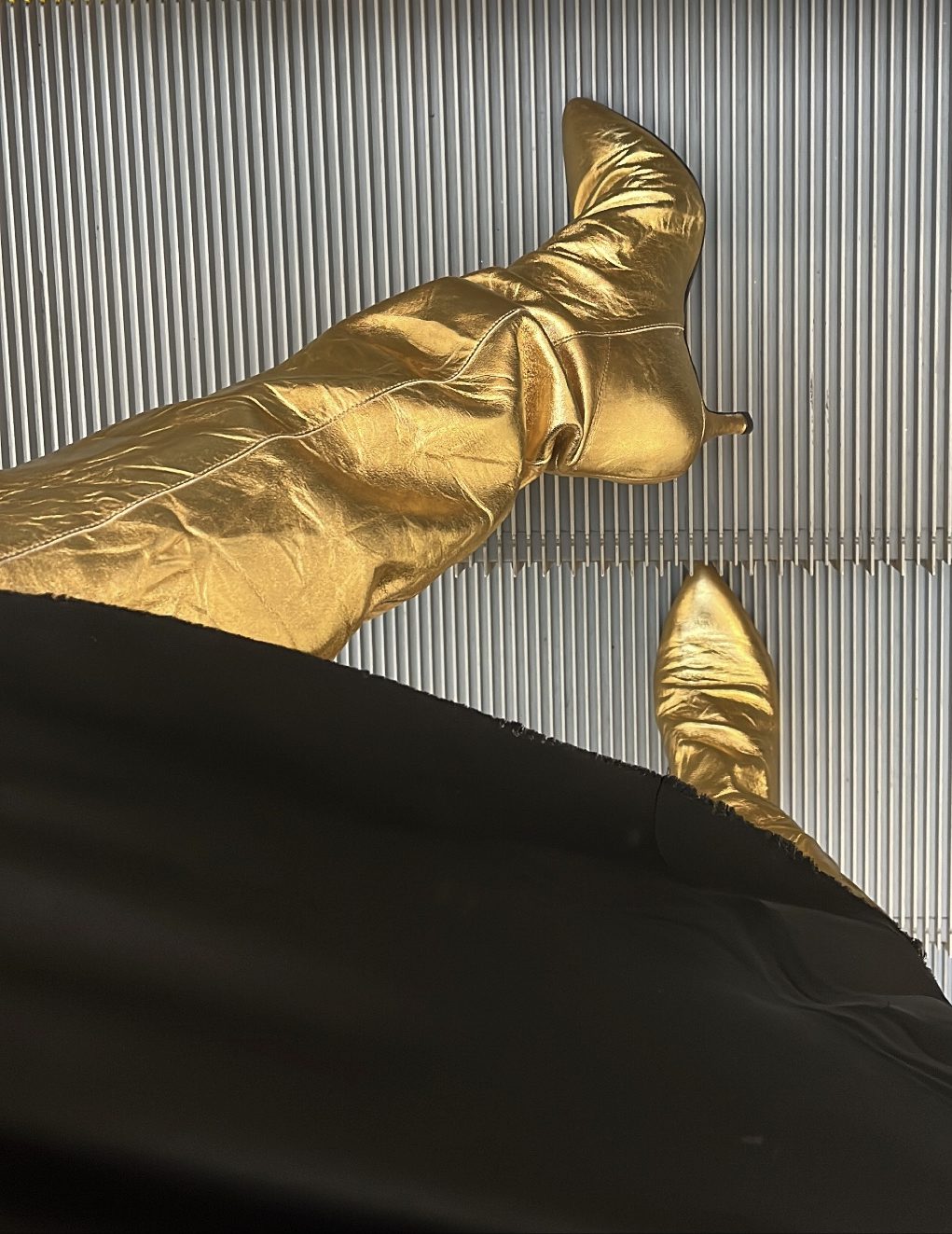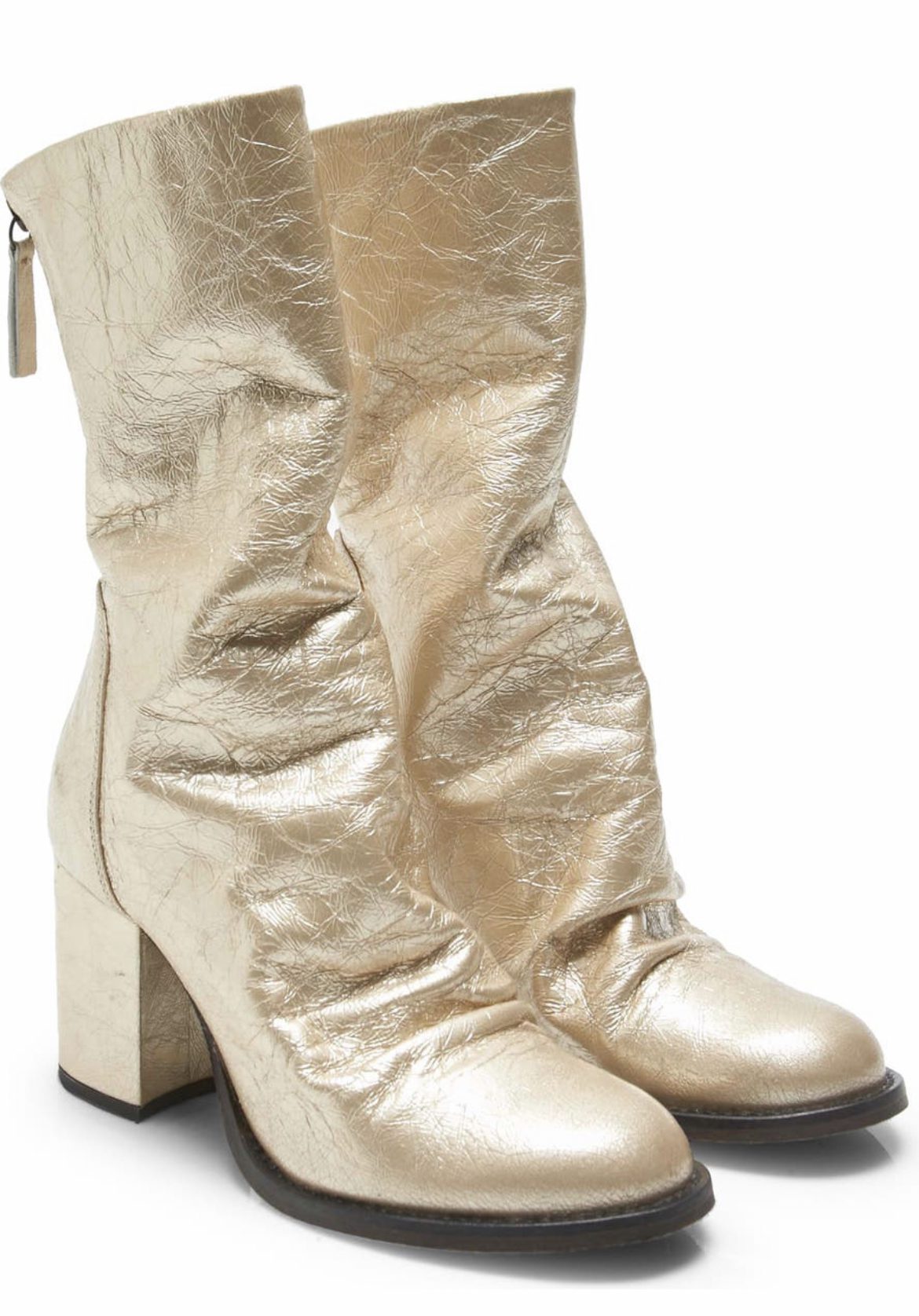 Last spring, I bought the cognac to-the-knee version of these Free People boots so I knew I would also like the champagne lower version too. The mid-calf shaft is very flattering however it's fitted so best for average to narrow calves. I wasn't going to keep both until I saw that the champagne pair were on sale, woo hoo so that decision was easy. They're both fun and trendy so they'll be in my rotation frequently!
< gold boots here and champagne here >
---
7 – BUFFALO PLAID FAUX SHEARLING SHACKET, $89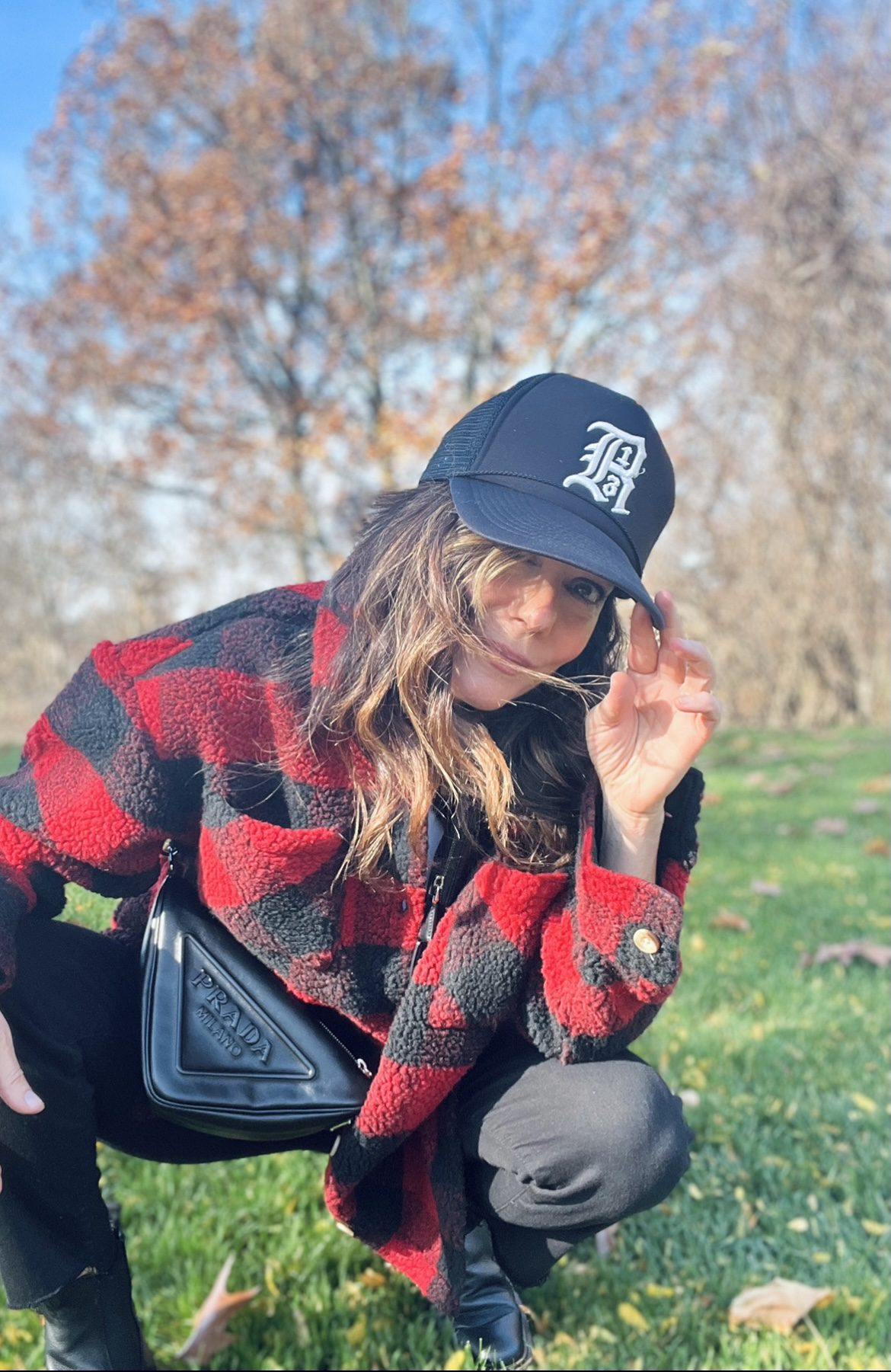 I had a long version off this by Isabel Marant that somehow went missing from my coat closet – with 3 daughters, it could be anywhere! I love a good buffalo plaid so this jacket is right up my alley and will be my go-to for running around and casual fall outings.
<linked here>
---
8 – ANINE BING TEE
Good graphic tees are hard to come by. This one sold out so fast but I found more and linked them below. I'll be pairing my graphic T with a silk slip skirt and a blazer for a relaxed but put together work look. My jeans are by Frame (here and are 50% off right now) and just get better with age. Jacket is a new purchase by Alexander Wang (here).
<shop here>
---
9 – COZIEST ROBE
This was love at first sight, not only because it looks so cool in black but because it's ultra cozy! Perfect to gift someone special, don't forget to add matching slippers here. It's a guaranteed winner!
<shop robe and slippers>
---
10 – NORDSTROM CASHMERE SWEATERS
I have to admit I don't wear a ton of sweaters at work – I get so busy and very hot. However I couldn't resist trying this very affordable zebra sweater which I wore layered with a stripe shirt. This super soft cashmere is an excellent value. It looks very designer–like but because its Nordstrom Made, the price is under $150. Makes an excellent holiday gift too!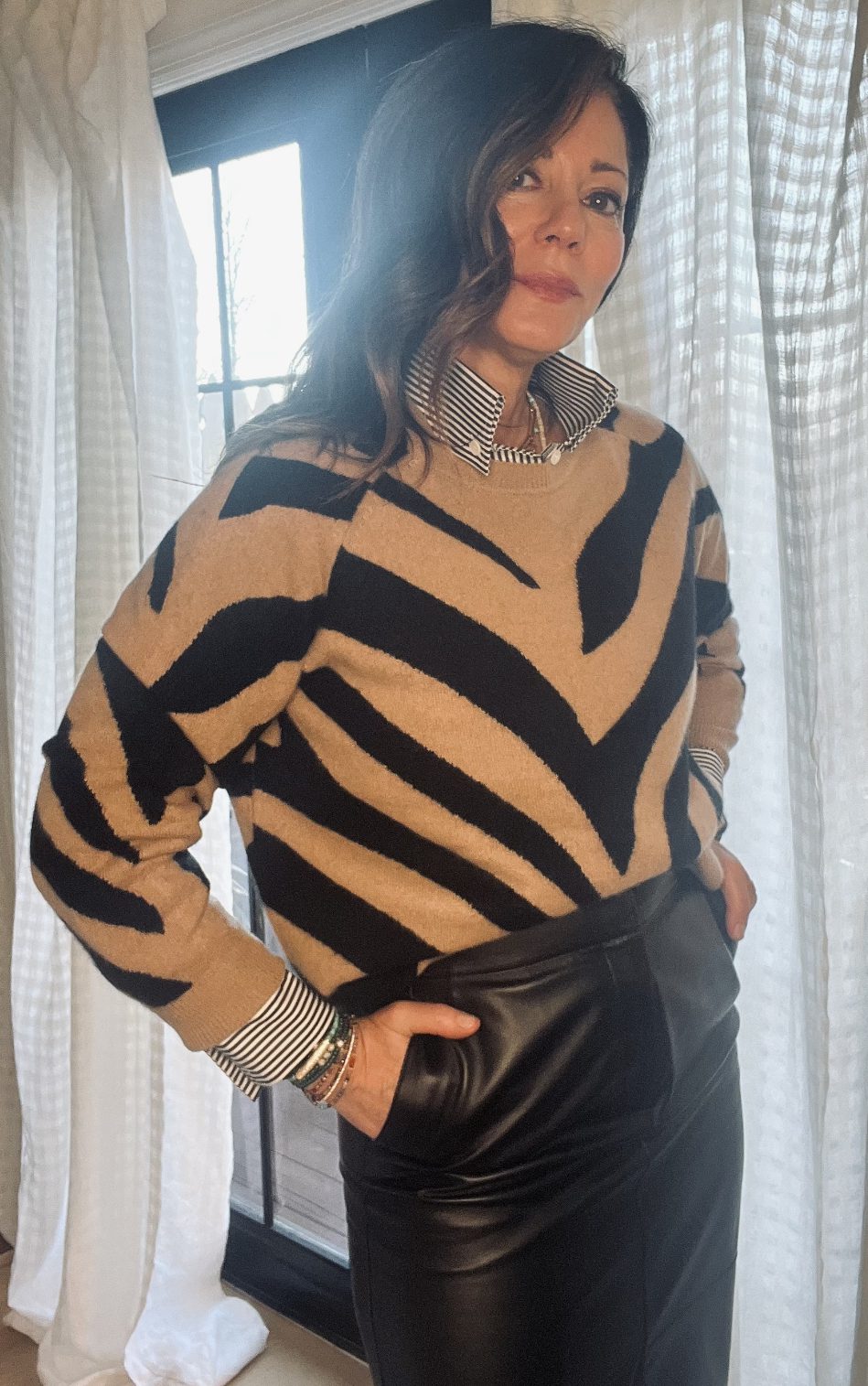 <linked here>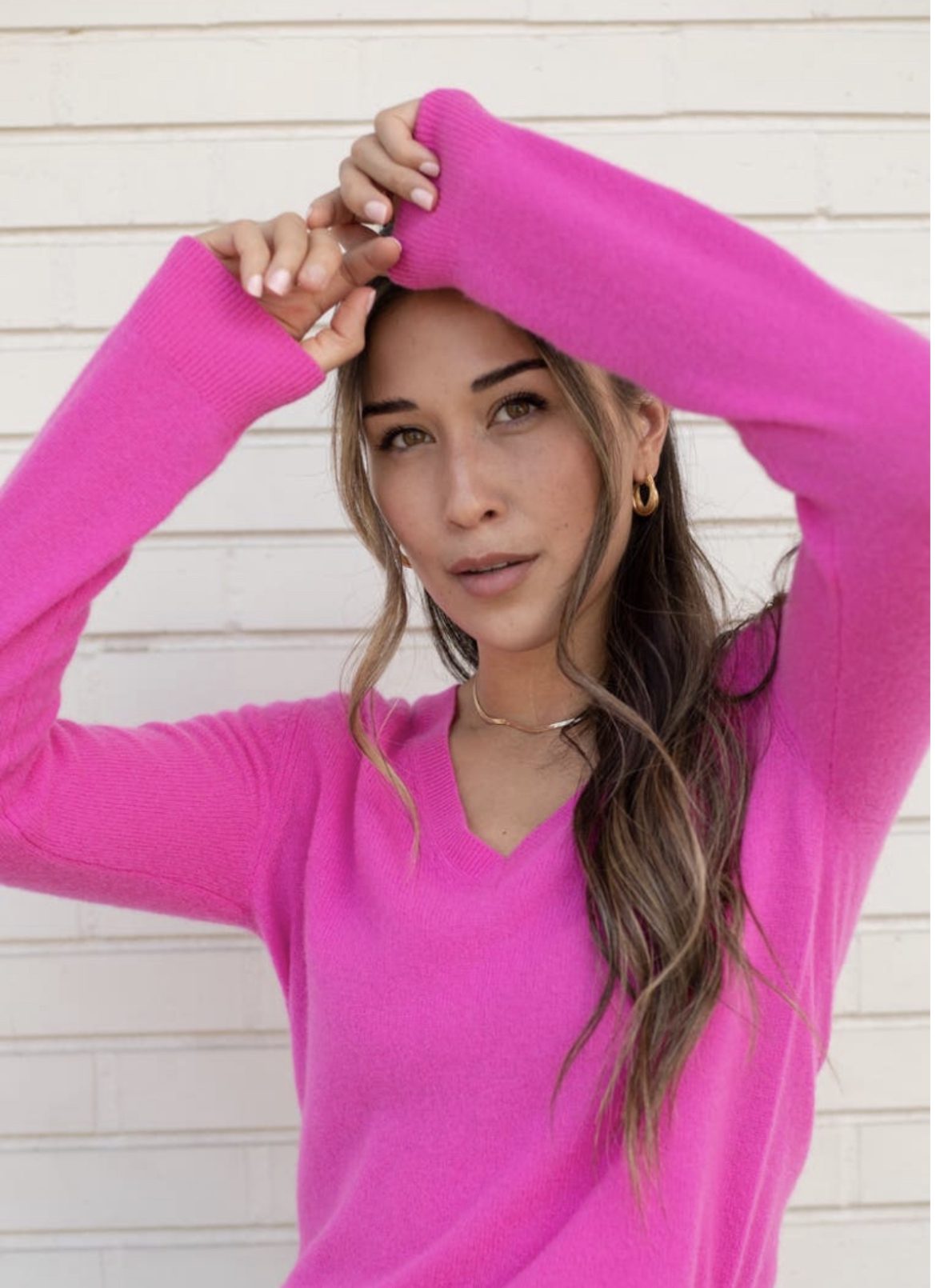 This hot pink Nordstrom cashmere sweater is truly a gorgeous color but if you're not a pink girl, check out all the other pretty colors available. I also love the hooded version as well. Stylist tip: Make your holiday packages more special by adding a small coordinating bauble to adorn the wrapping. When I'm sending a baby gift I might add a little book the ribbon on top. This pretty hand made ornament would make a gorgeous present topper! I'd love to receive this pretty $89 sweater and ornament, wouldn't you?
---
11 – HOLIDAY PARTY SHOES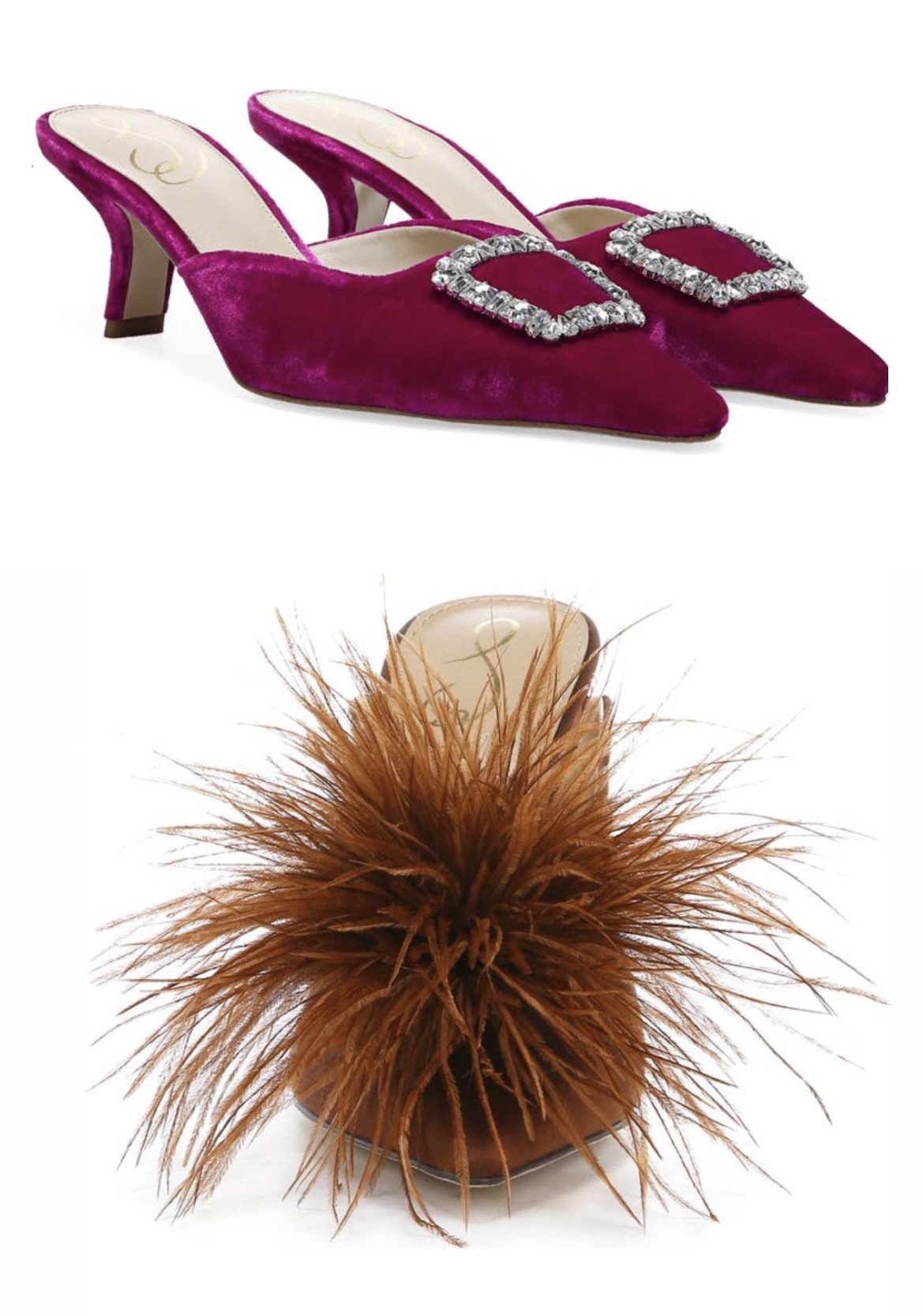 These ostrich feather mules went quick but I've found more. Make a statement in these!
---
12 – MONROW SWEATER SET (SOLD SEPARATELY)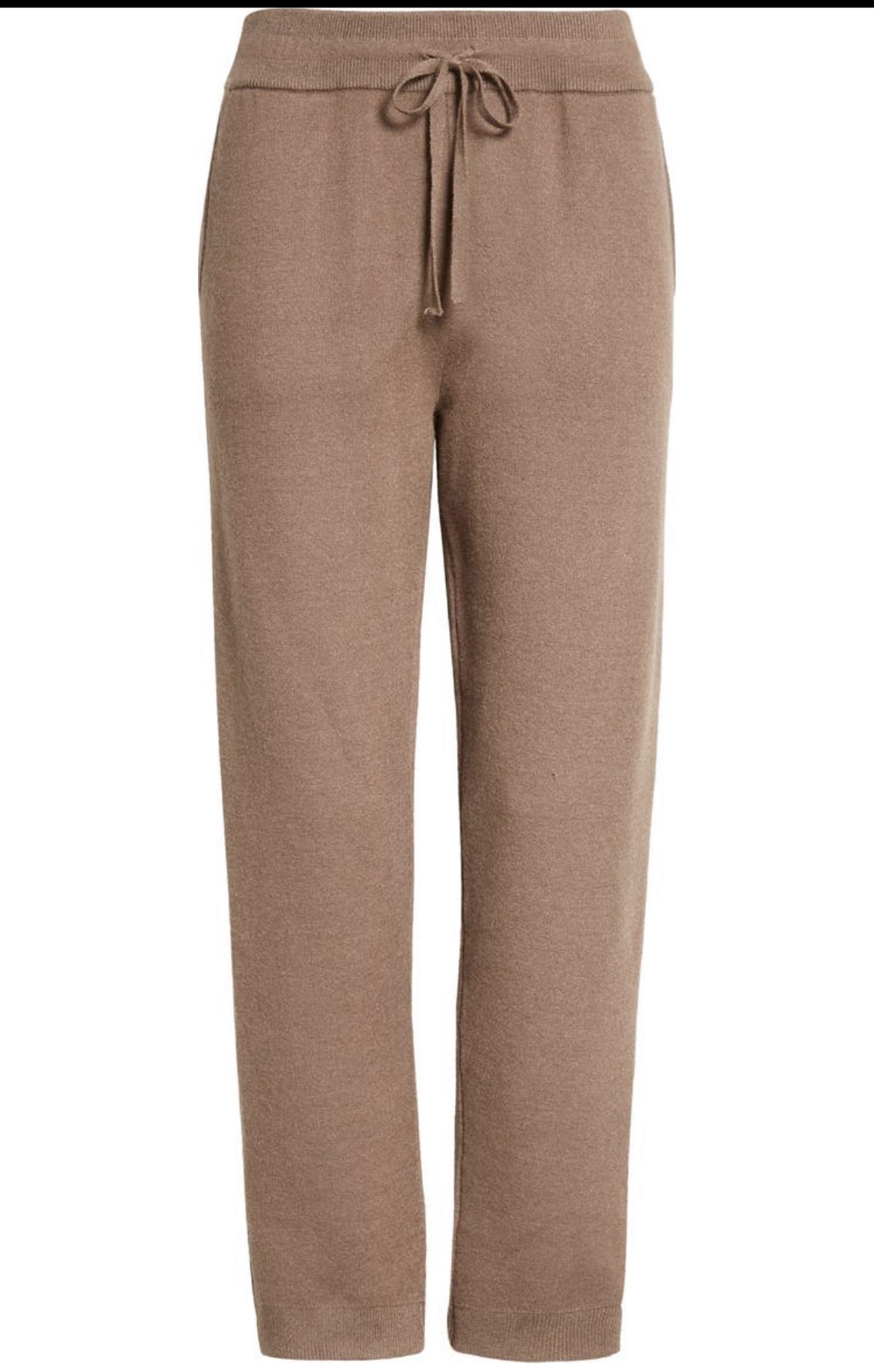 Wear these easy throw on soft knit pieces together or separately. Talk about a great chic but comfortable airport outfit. Stylist tip: add a t shirt, updated sneaks, scarf and tote to complete the look.
---
13 – KNEE HIGH BOOTS
Rose Knows when an item will sell out, and as predicted this boot did! I've been searching everyday for specific sizes to pop up so if you'd like to be added to my 'daily search pile' on IG, dm your size, name and cell. I've linked others that are very similar and equally comfortable and stylish.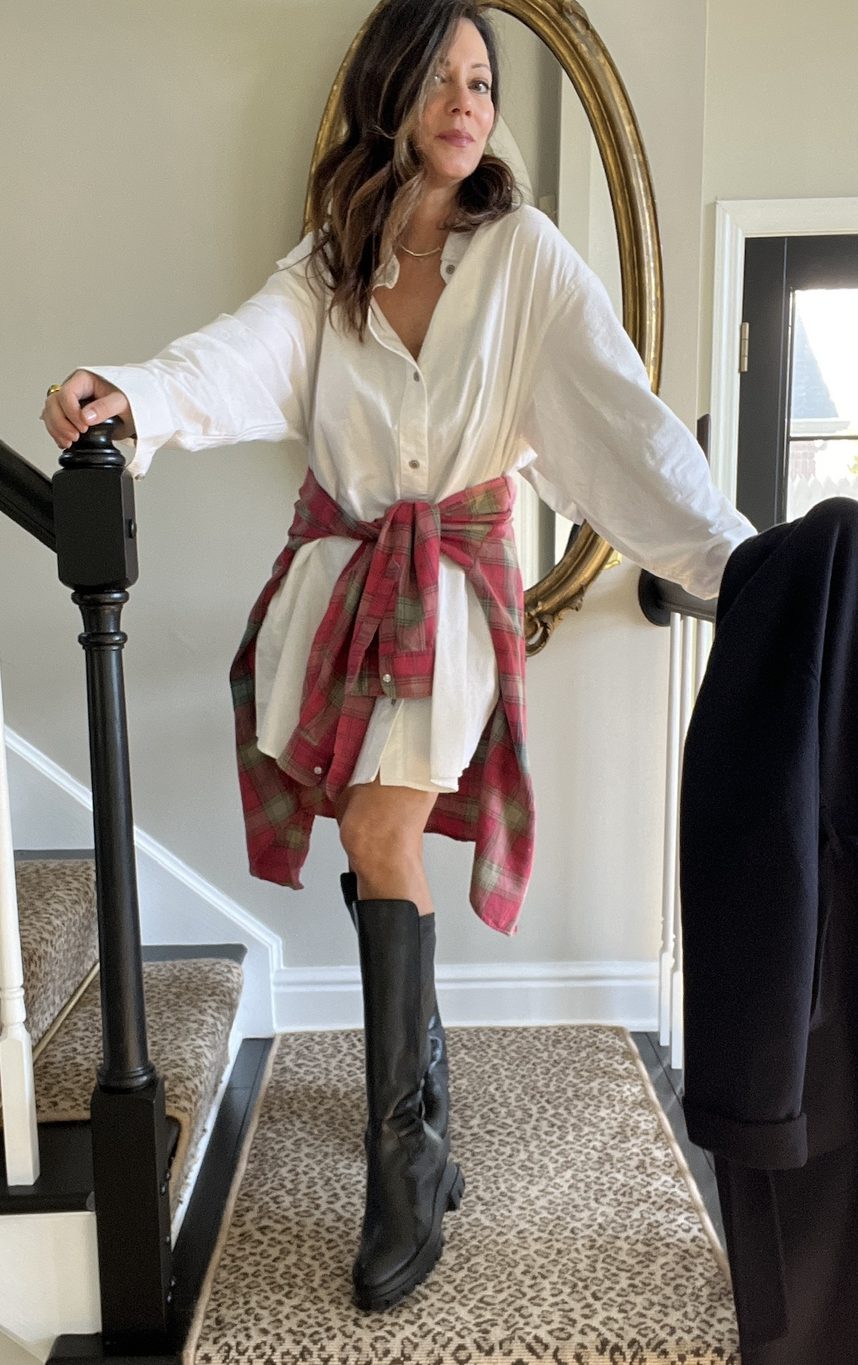 <shop this and similar knee high platform comfort boots >
---
14 – TOPSHOP GREEN VEGAN LEATHER PANTS
<shop my outfit here>
These were just delivered today and I have to say, for the money they are definitely decent! I'm going to have a minor alteration to nip the waist in and then they'll fit perfect! I love how my gold pointy boots look with green … hmmm maybe I need to put together a holiday (but not too "holiday") look together so stay tuned 🙂
---
Stay tuned to my stories for Rose Knows curated gift bundles – I've started making gift guides which you can see here.
Feel free to request wrapped gift sets that I can send tax free. Email rose.hayes@nordstrom.com for personalized holiday assistance via FaceTime.
Thank you for reading! Please share this post with a friend.
xx, rose