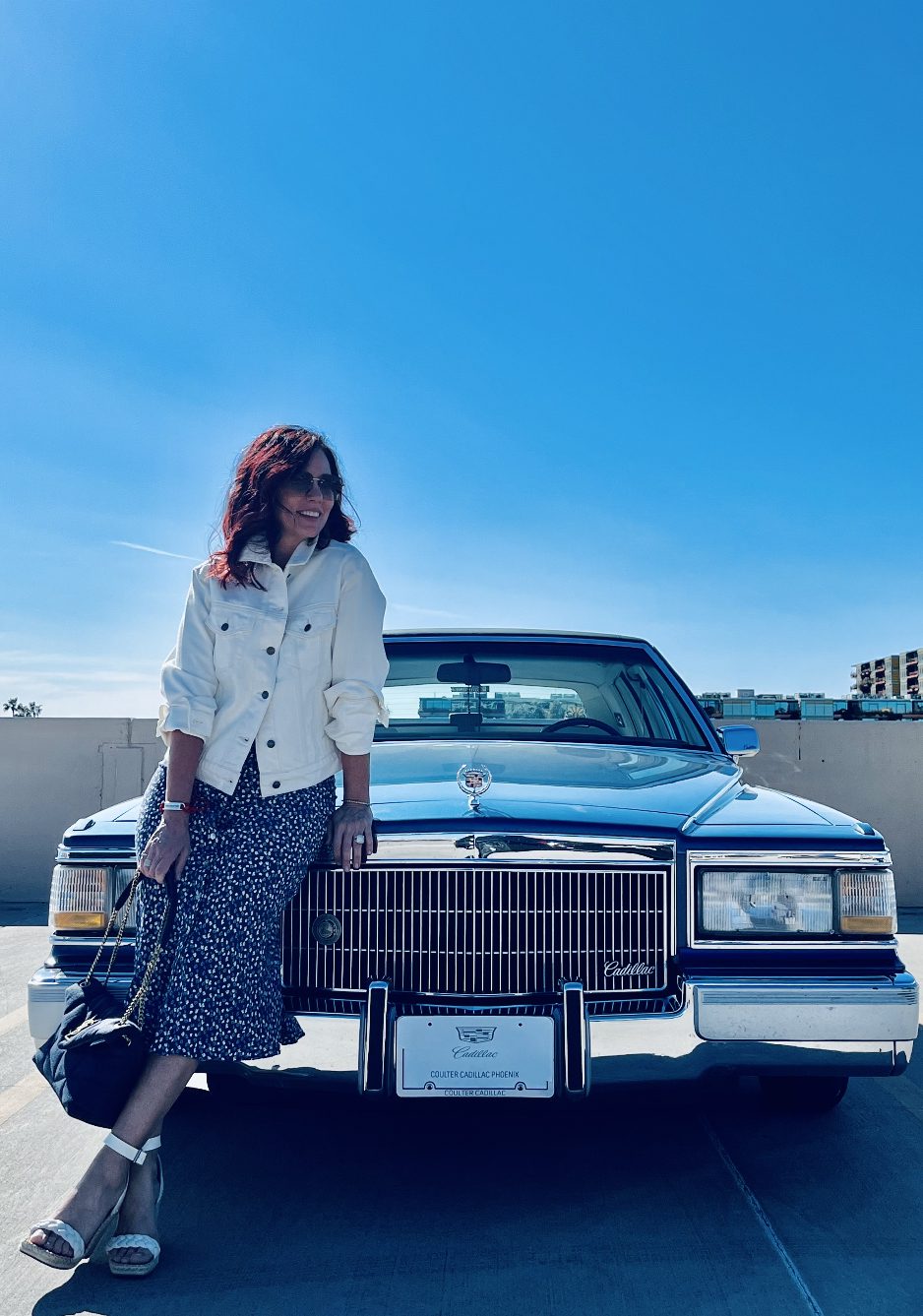 Every winter when I work from the Nordstrom at Scottsdale's Fashion Square, I get excited to see what's new here and what people are buying. And this year people are buying SPRING SHOES! There is something about a new sandal that signals fun times ahead. Queue the showers, weddings, graduations, concerts and more. You can shop with me online by tapping the links here on the blog and on shopLTK as always.
*A little housekeeping first. You may have noticed a new category in the menu above, PREMIUM DESIGNER. These are the designers not online like Chanel footwear, Prada, Christian Dior, Celine, Fendi and Gucci. To find out if a special designer or item is available via Nordstrom, please email (rose.hayes@nordstrom.com) or DM me on Instagram.
The amount of new shoes, colors and styles coming in daily can make anyone dizzy. So to narrow it down, my edit is based on what is selling well and what I personally love and would wear myself.
You may have noticed that many brands that we know and love have entered the shoe arena. Paige, Rag and Bone, Frame and Veronica Beard all have serious winners in their footwear collections! One brand that always strikes a happy balance between quality and price is Stuart Weitzman.
There are many great choices at reasonable price points this year so make sure to scroll all the way to the bottom for great deals around $100 and less.
OK, LETS SHOP! Here is your SPRING SHOE checklist:
01. SLIDES
The Christian Dior DWAY slide has been a huge top seller. Most of these color combos are available in matching guitar straps which can be added to the Dior handbags. Just recently 2 more new color combos were added. You can check these (and new Chanel slides) by heading to the Premium Designer page here. Email me for inquires and to order.
GOLD & SILVER FENDI
These elegant silver and gold foiled Fendi slides will match everything and are really pretty in person. The Fendi cut out logo is discrete and subtle. Its hard to find a slide that can match more than these both day and. night! Try them with white ankle-length jeans or a swimsuit + sarong… THIS IS THE SLIDE TO HAVE! SHOP HERE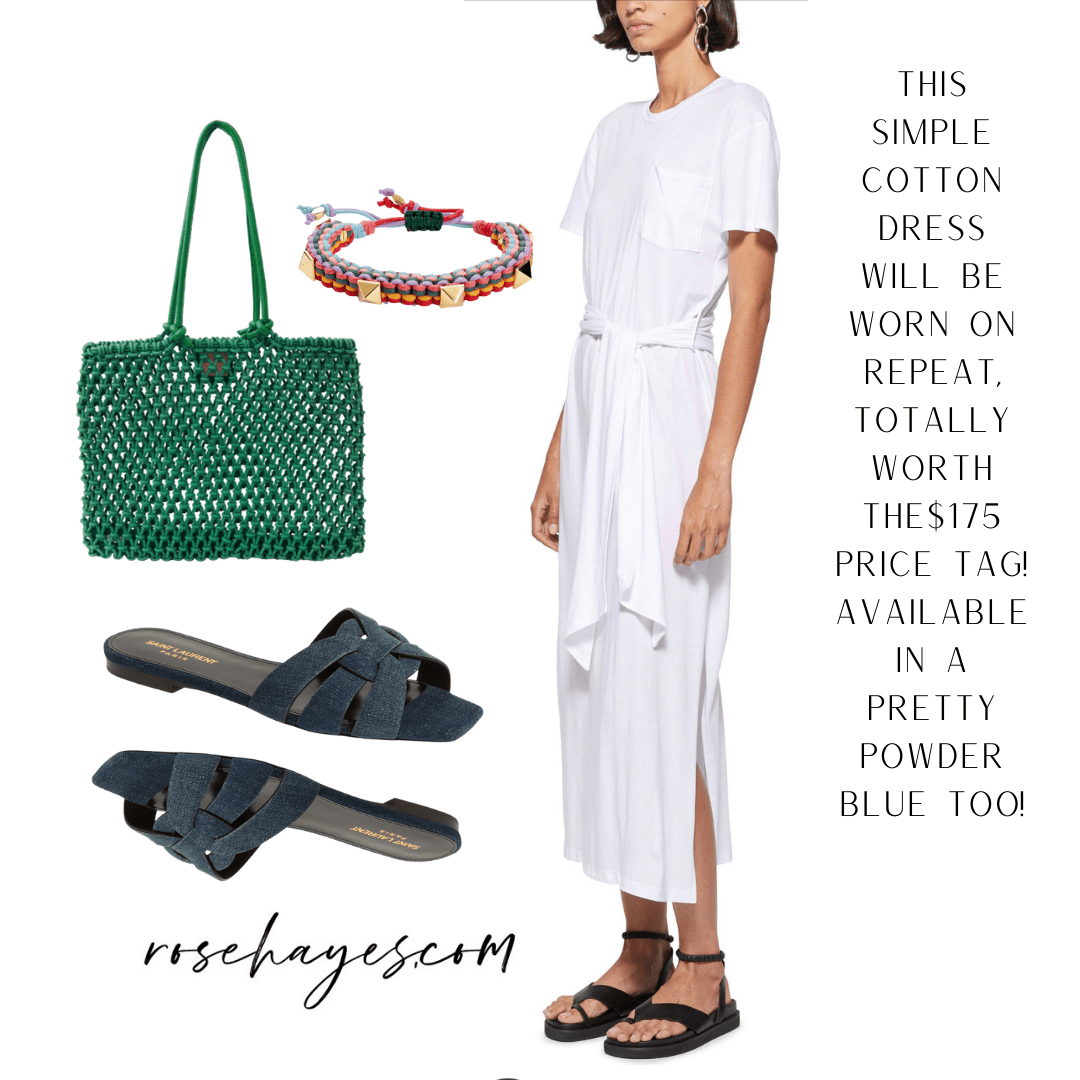 The Ysl Tribute slide is a variation of the Ysl Tribute Stilletto that has been wildly popular for years. The braiding on top is their signature design. It's more casual and easier to wear than her high heeled sister. Recently I found this sandal in a very cool, dark denim fabric which has a matching Ysl handbag here. I love this easy slide and the new navy denim color is especially sharp with the green woven tote bag and this practical throw-on and go white cotton dress. Recently a pretty ivory was added with contrast stitching. The tan version is a perfect universal shade and of course you can't go wrong with the black. Tap HERE to shop.
EASY GO-TO LOOK
This is my kind of 'everyday' look! A fun tote like this one is just one of those things that can make your look unique and break up all the solid colors. I love the black and white handle on this bag! Tap HERE to shop.
SHOP SLIDES HERE

02. ESPADRILLE WEDGES
My favorite and most comfortable is the Valentino Rockstud Espadrille Wedge in any of the colors. They are all really good. I also like the Gucci version as well. Every year I tell my clients to grab these as early as possible because they sell out super fast. An espadrille wedge is less dressy than a high heel however it is much easier to walk in and you won't have to worry about your heel sinking in the grass!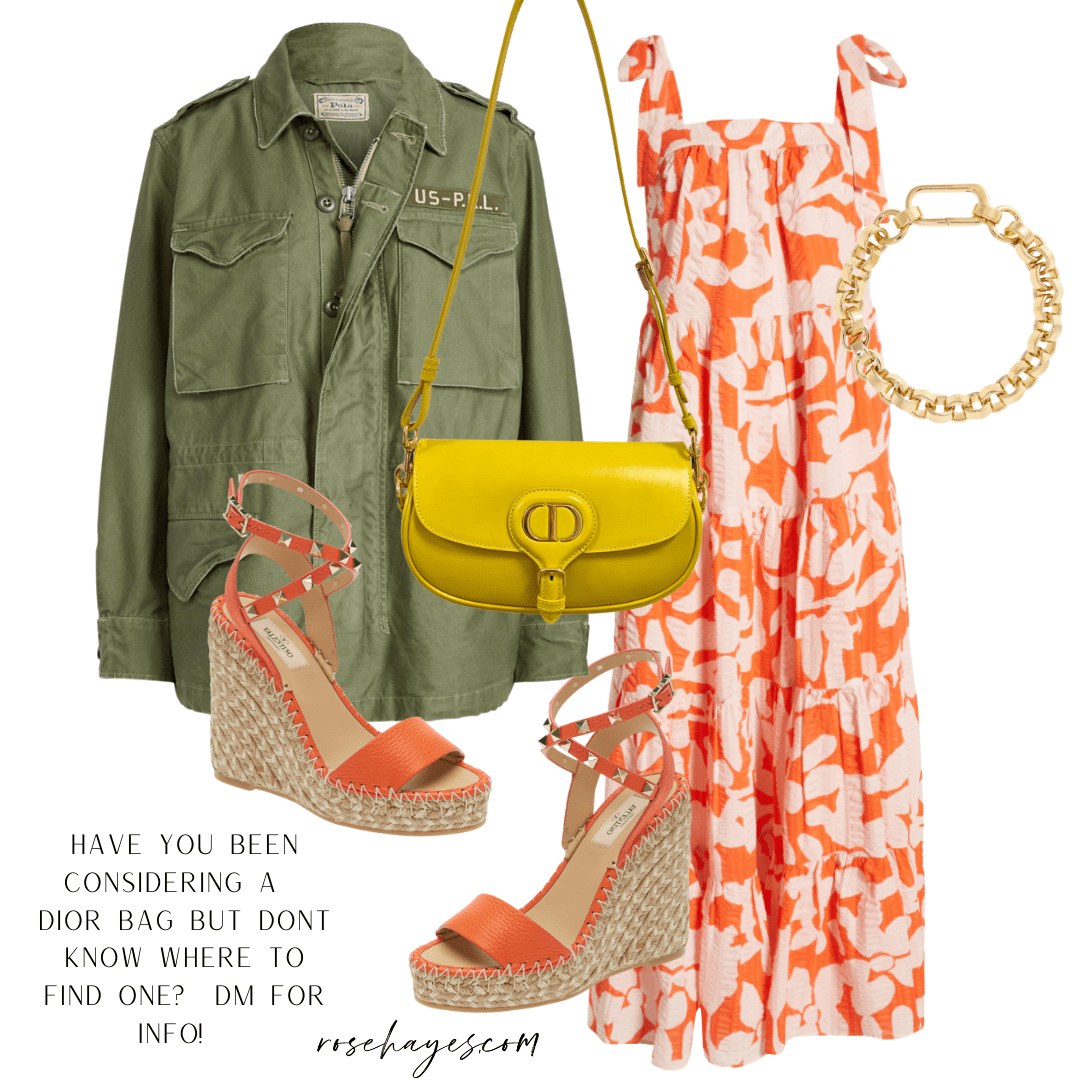 FUN IN THE SUN(DRESS)
At least one new fun sundress in your closet to take on vacation or just to stay cool is a wardrobe necessity! Shop HERE.
Wide Leg Jeans & Wedges
A wedge is ideal to wear with wide Leg jeans this spring! Shop this outfit HERE.
SHOP MORE ESPADRILLE WEDGES HERE

03. ANKLE STRAP & WRAP SANDALS
These ankle wrap sandals with the interesting curved heel are very similar to a Feragamo design I saw recently however this pair is under $100! But what I really love about these sandals is how substantial the cushion is which makes them very COMFORTABLE. These really are a great deal and will come in handy with dresses and skirts! They come in white and pink as well. Shop HERE.
Flat Beaded Novelty
I love how perfectly this lilac swim suit works with the Pucci Sarong! I'm planning a beach vacay just so that I can wear this outfit with a white denim jacket! SHOP here.
Swimsuit/Bodysuit
Bodysuits are in style right now so why not repurpose your swimsuit and wear it. under a blazer and shorts or jeans! Poof, you now have an extra piece to mix and match! These sandals are under an inch so walking is no problem with these cuties:) Shop here.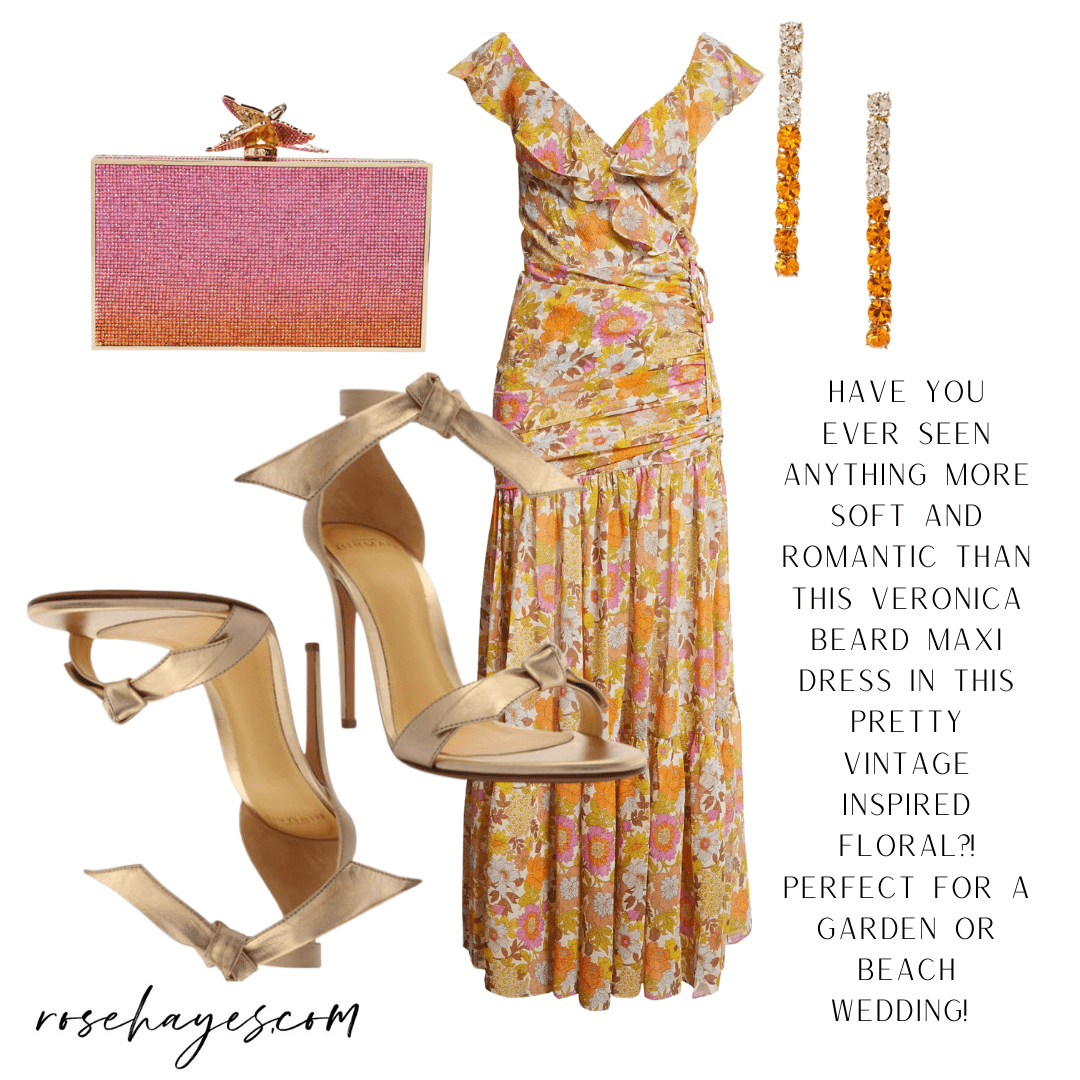 Wedding Guest Outfit
Do you have a spring/summer event coming up? Because these sandals are so pretty and are priced on the lower spectrum for a designer shoe, they sell out super fast! Check out these plus a few pretty dresses I've linked HERE.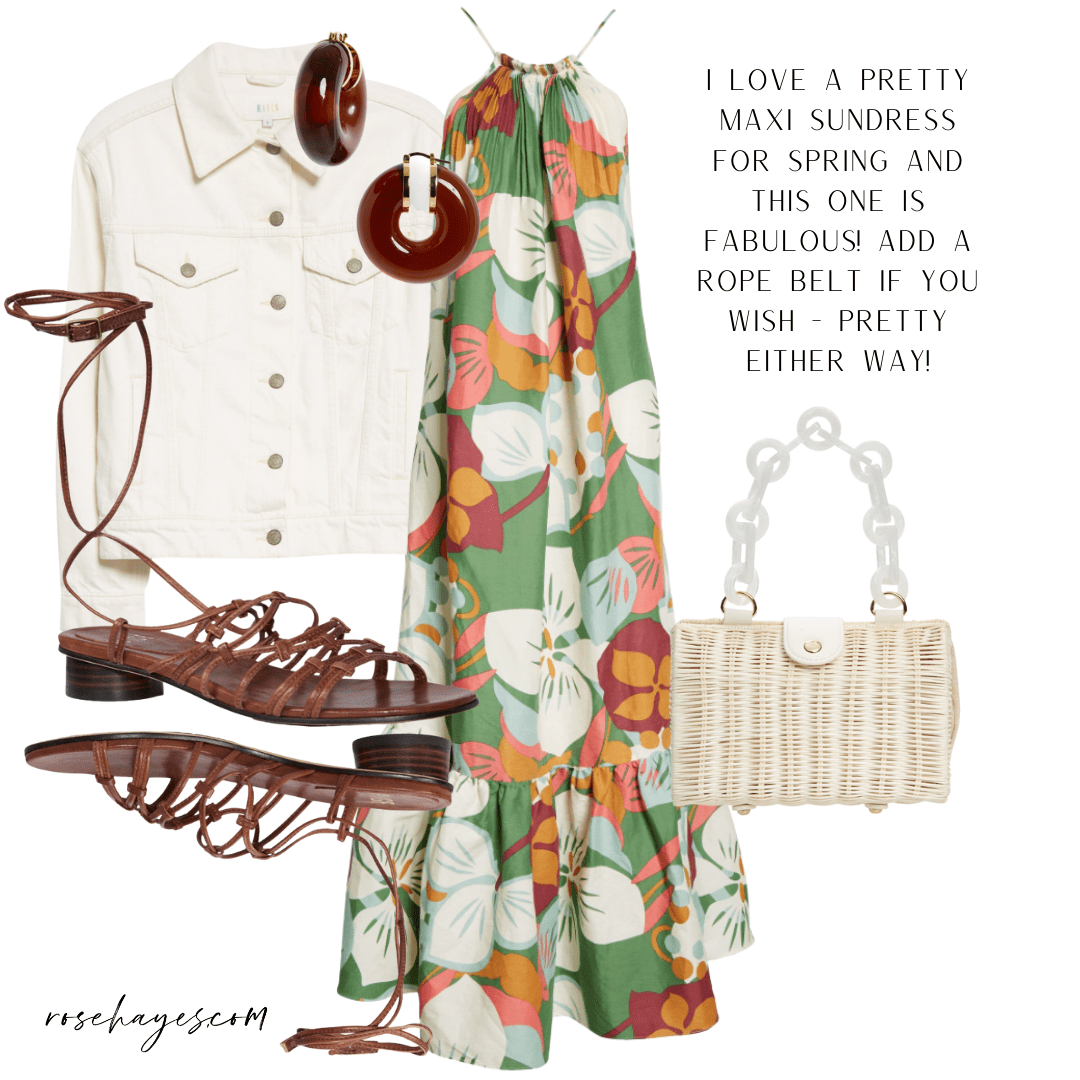 Brown Ankle Wrap
I've been super impressed with Paige shoes this season! These sandals are practical, pretty and very well made! Shop HERE.
SHOP MORE ANKLE WRAP SANDALS:

04. BLOCK HEEL SANDALS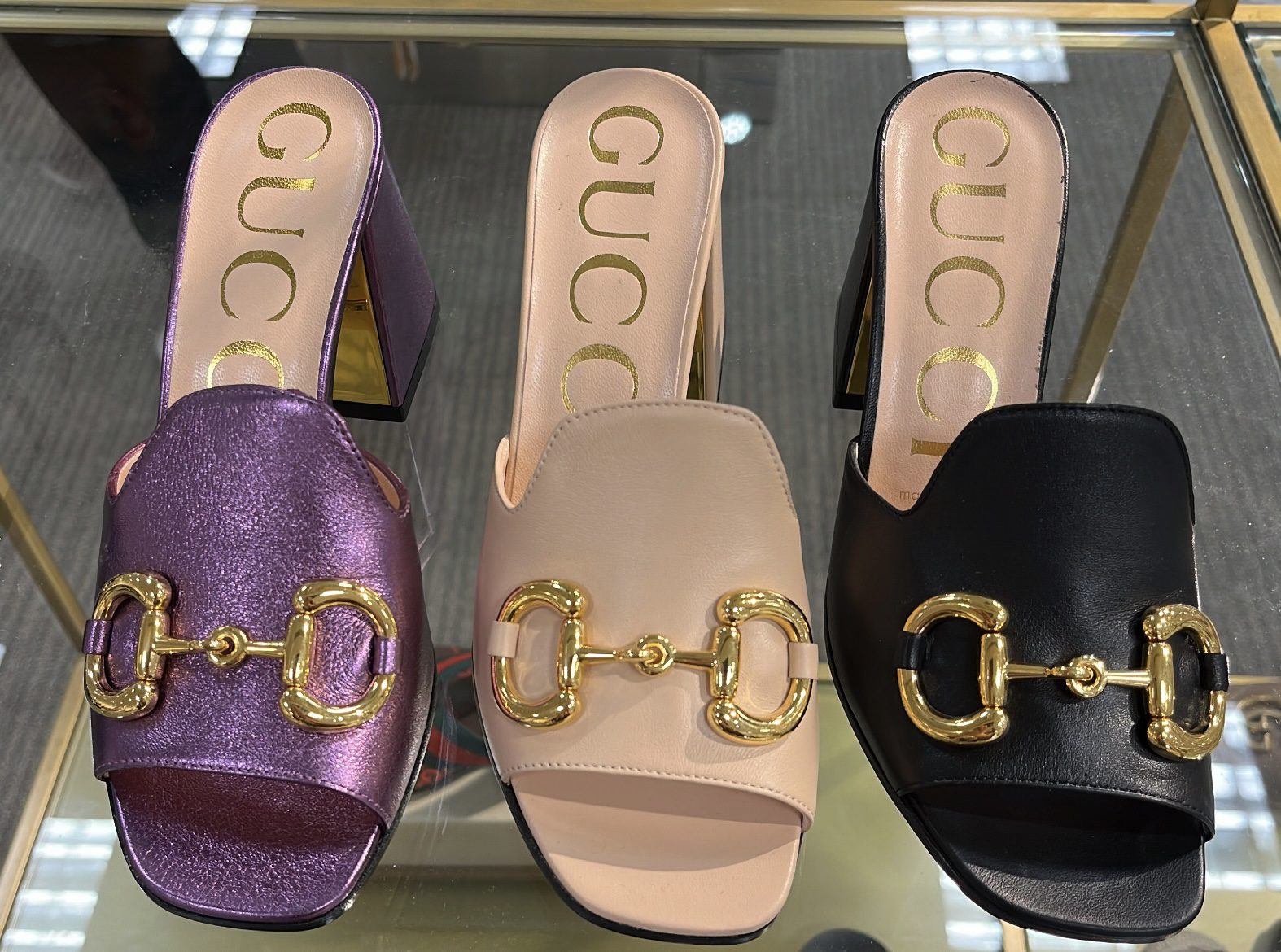 GUCCI
The Gucci Horse bit slide has about a 3″ block heel and is very versatile. It's also available in ivory and pale yellow. Shop HERE.
D&G
If you only invest in one spring sandal, make sure it has a comfortable heel height. Second, a neutral color like nude or caramel will match the majority of what's in your closet! Shop D&G block heel here, $595.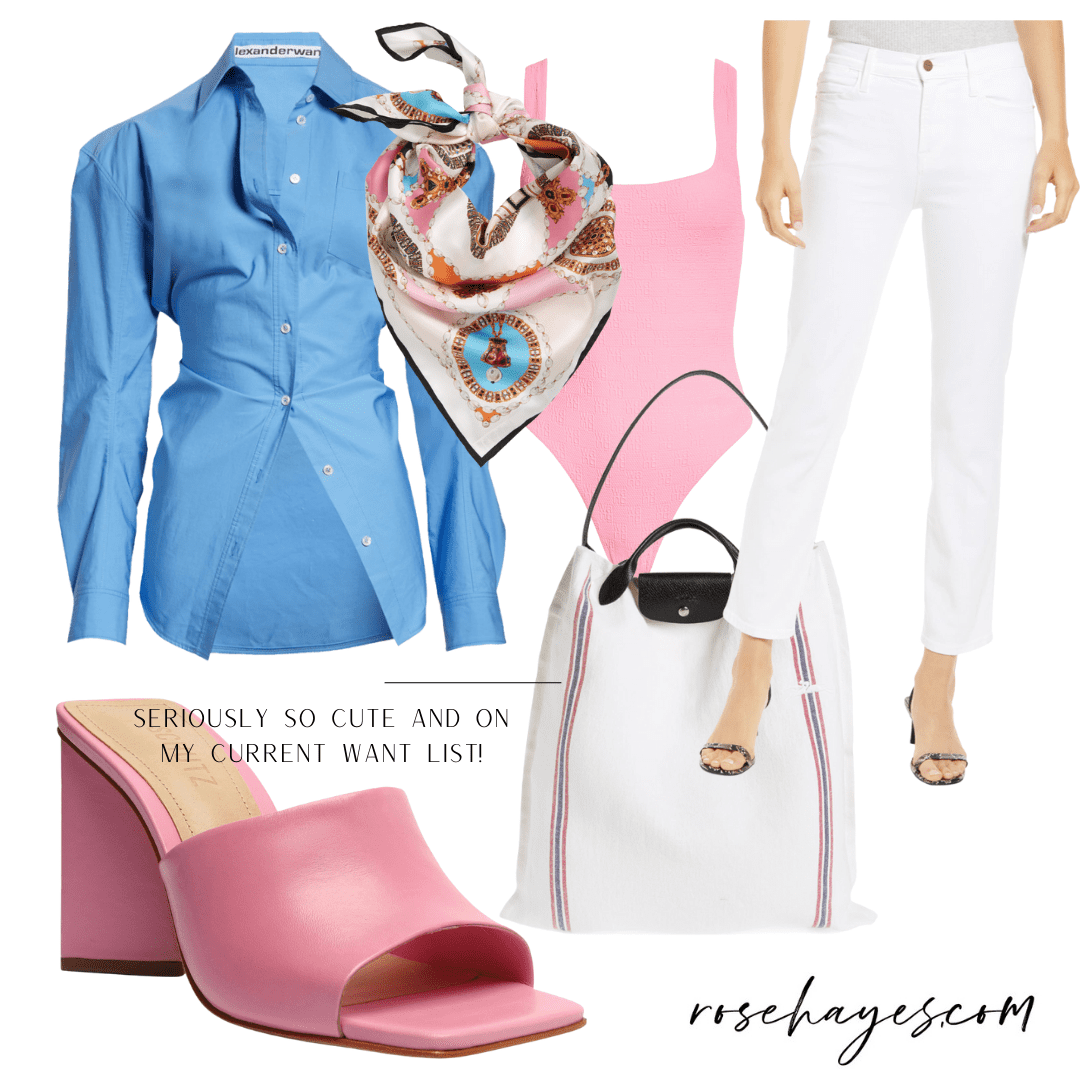 Shop this outfit here:

CARAMEL & NAVY
A caramel or toffee colored sandal looks rich! Plus it will pretty go with everything from navy to orange to black! If you can only purchase one new sandal this spring, I highly recommend a caramel colored color for optimal versatility. Dior crossbody and guitar strap is available upon request. Shop HERE
05. Novelty Sandals
I keep going back to these, which usually means I need to have them! The fisherman straps keep it open but not totally revealing a 'not so perfect' pedi. They also come in a pretty navy combo as well which can be a difficult to find. I highly recommend this cotton army jacket to balance pretty florals. Shop HERE
More fisherman sandals to consider here:

06. SNEAKERS
Everyone is wearing sneakers with skirts and dresses these days. I love a black retro sneaker like this Nike. You can go wrong with Golden Goose especially the high tops. I also am a huge fan of these Loewe sneaks too! Shop HERE.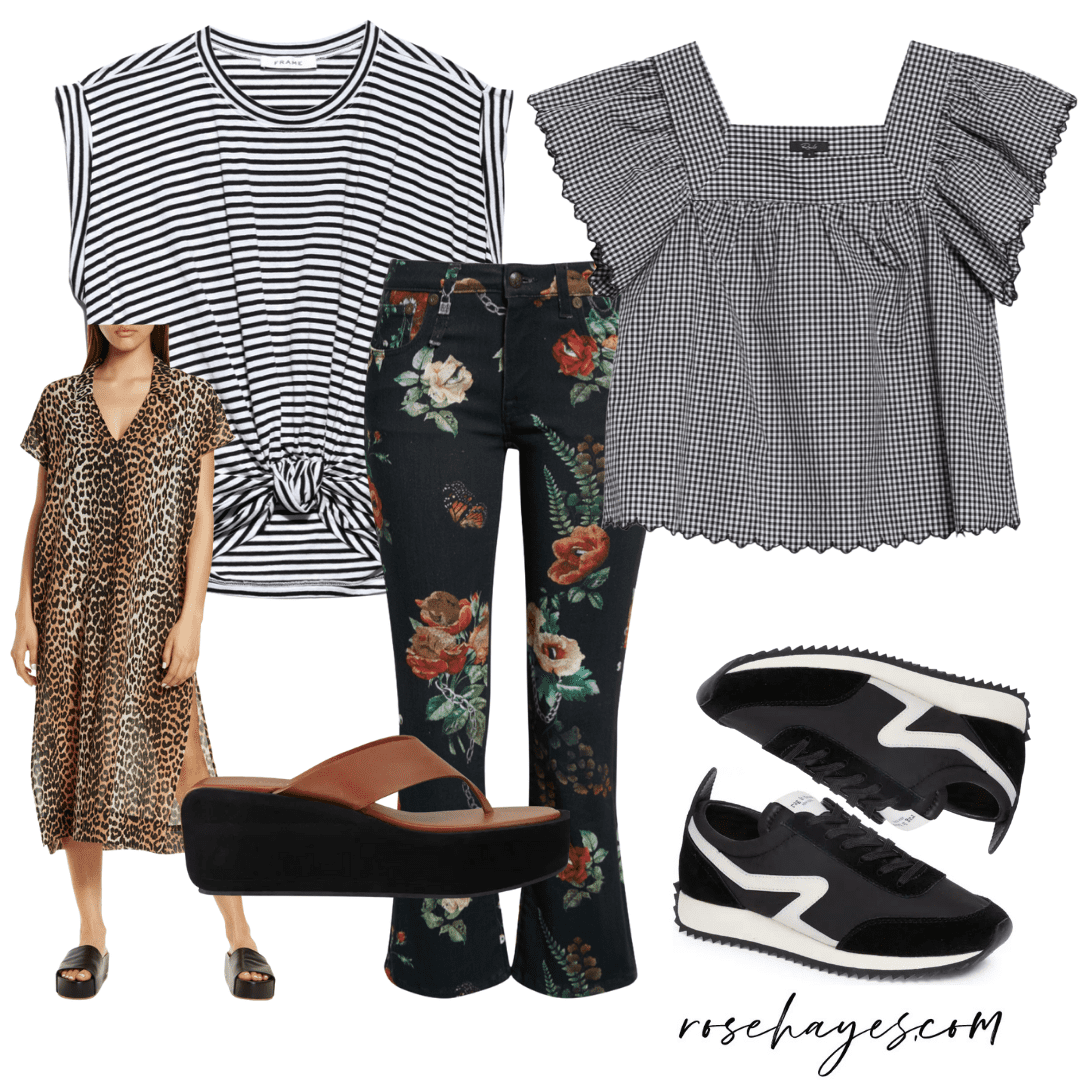 07. BOOTS
I wear boots year long especially my Fendi white boots in the spring and summer but I also have these Free People western boots below in turquoise and always gets lots of compliments! How cute is this outfit worn together or separately!

Many beautiful choices here:

---
LET'S SUMMARIZE SPRING FOOTWEAR
So let's break down what footwear you'll need in your closet for every occasion this spring.
SLIDES (flat): wear with maxi, midi, and mini length bottoms. These can be worn with narrow ankle length pants/jeans. They are perfect for the pool, running around yoga attire. A slide is your everyday go-to footwear.
WEDGES: wear with casual floral dresses/skirts, wide leg and flare pants/jeans, any anytime you need comfort + height.
ANKLE WRAP SANDALS: these

are your slightly dressier sexy shoe option that looks feminine and flattering on most legs. Wear with a slip dress, dressier dresses for special occasions, skirts, basically anything that shows off your legs!

BLOCK HEELS: These can be a slide or mule and are a very popular option to own. Easier to walk in than a stiletto heel, which makes them a very practical! You can wear a block heel with anything.
NOVELTY SANDALS: These can be what's trending like fisherman sandals now to a quirky heel like these by Loewe with the nail polish heel. Have you seen the ostrich feather mules by Alexander Wang ? Novelty sandals are very unique. They are just a little more special and often have lots of bling.
SNEAKERS: Worn with skirts and dresses is still a trending way to wear sneakers. Wear a sneaker with a slouchy dress pant or suit for that cool girl look. Loose jeans + hoodie or cropped top with a trench coat is also trendy. I prefer to wear my sneakers with athletic pants, shorts or a midi skirt + tank top, topped off with a denim jacket.
BOOTS: I wear boots year round, especially western boots with tiny floral print dresses. White/ivory boots are also in style in the warmer months as well. Its not for everyone but the key is to have some leg showing so you're not covered head to toe as if there was a blizzard!
LAST BUT NOT LEAST, FINDS AROUND $100 THAT WILL KNOCK YOUR SOCKS OFF!

---
I hope you have enjoyed this post! I would be so grateful if you would share roseknows with a friend, and don't forget to subscribe! Thank you. xx rose