The Color Combo That Always Works
Next time you find yourself with nothing to wear, try a black & white combo! Hopefully you have a few great fitting black and white pants, dresses, tops and blazers. This color combo always works and couldn't be easier. Add a pop of color in an accessory like my green Ganni belt – just for fun and whimsy. If green is too bright, try adding camel, charcoal or a red to break things up and add interest. I hope you'll remember this easy color combo when you're stuck and need to get ready fast!
Back in the day, I would plan what I was wearing the night before. That was a long time ago when I had a houseful of kids, 2 dogs and no time to think about cute outfits. Now I have more time and dress how I am feeling that day. However on those rushed days when I can't play in my closet, I've learned to always have a nice selection of quality well fitting black and white basics! If you could use a refresh, check out my B&W picks below. All are NEW and roseknows approved 🙂
BRAND NEW STAPLES

EBONY & IVORY
Take a look at these Pinterest photos above, what do they have in common beside being the same colors? They all have texture! In other words, they are not flat – they have interesting textures that play off each other. The look is simple, elegant and best of all, we all have similar items in our closets!
Totem
This clean and minimal brand reminds me of a well traveled chic woman that believes in quality over quantity. Totem pieces are polished and sophisticated. I was super excited to see the line in person here at Fashion Square. Here is a sneak peak of my try on session that sparked the idea for this blog post:
Shop Totem HERE:

---
"YOU ASKED FOR IT"
On a recent instagram poll, I asked what types of style boards you would like to see. So many great ideas were given and I will slowly get to them all! I thought to add a new category to the blog entitled … "You asked for it" where I respond to your requests in the form of a shop-able style board. I hope you enjoy!
1. BEACH SARONGS
Recently many have requested swimsuits and cover ups. Personally I prefer a beach sarong to an actual garment made specifically for covering up. There are many ways to wear a scarf but while you're at the beach, try these. Grab the ends of the scarf and just loosely tie it in the front or over to one side to cover your lower half. You can make a chic dress with an extra large scarf by criss crossing the two tails and slip the opening over your head, tie a knot behind your neck. Add a belt if you'd like. Watch this tutorial from my instagram reels last year HERE.

2. Yin & Yang
Have you ever noticed that sometimes the best outfits are unexpected or accidental? Like when you're at a wedding with your significant other. It starts to get windy, he lends you his suit jacket and lo and behold that look is still one of your all time fav's! This is because mixing opposites creates interesting juxtoposition and is uniquely yours (the look not the jacket haha). I love seeing how artists mix colors and mediums, just like this pretty feminine Alice and Olivia white lace mini dress which I paired with a cool girl casual army green Ralph Lauren jacket… get creative and break a few rules!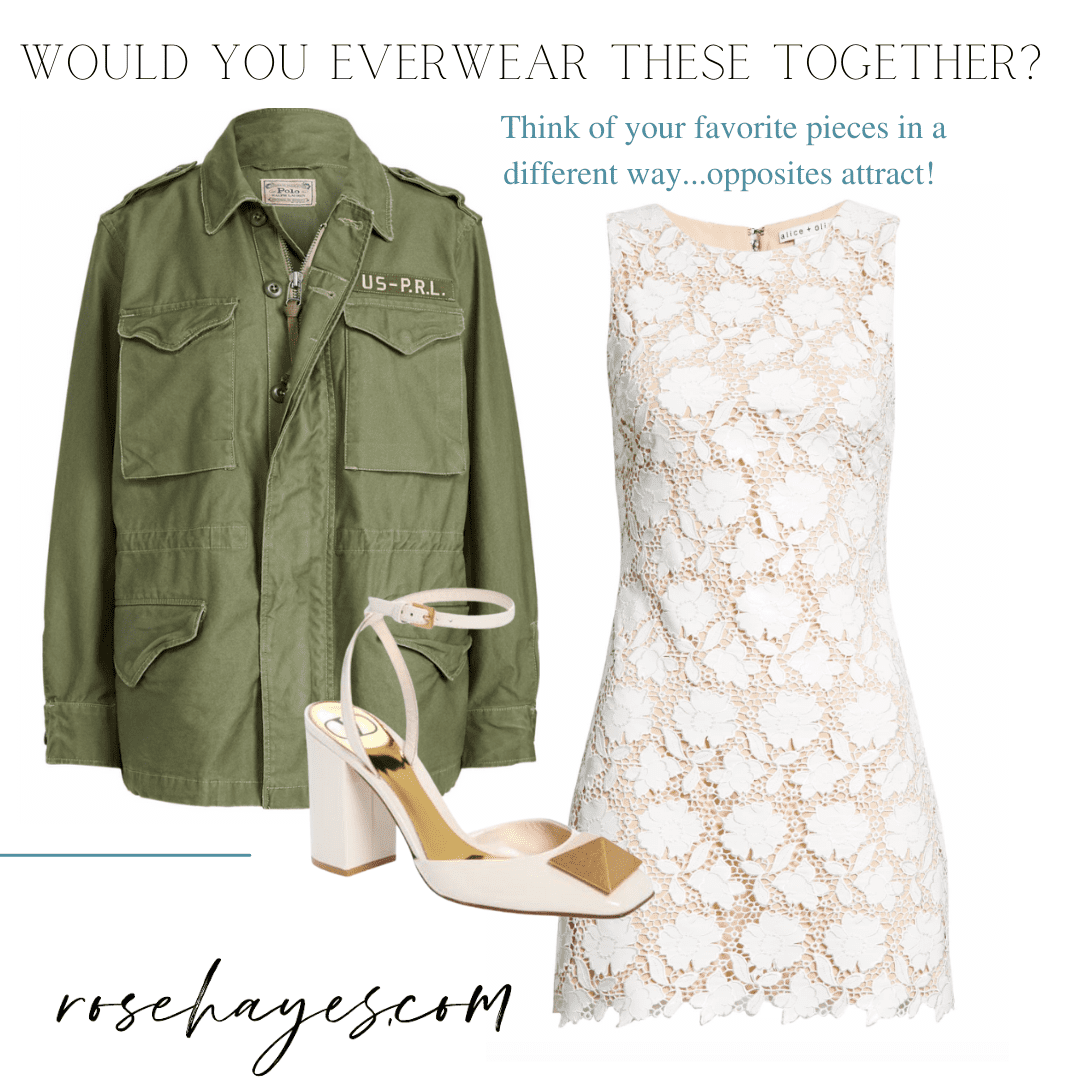 3. Beach Vibes
There's nothing better than lounging on the beach with a good book and a Mojito in each hand 🙂 This 2 piece white swim suit by Norma Kamali would be extra chic at a pool party or yacht club. Tap on this link HERE to shop this look. Bon Viaggo!
---
If you have the @shopltk app, check out my boards here. I would be so honored if you could help me grow by sharing my blog and feed with a friend that loves fashion and shopping. Would you like exclusive content and new style guides sent directly to your inbox? If you answered yes, subscribe here. Thank you for reading xx, rose