Whether you live in Madison or Miami, everyone looks forward to SPRING and refreshing your closet. Spring Breaks, showers, weddings, graduations and so many special occasions happen this time of year. That means we need dresses and thanks to the Nordstrom buyers, we have an amazing assortment right now! We are currently in the 4-5 week window where we receive the best of the season. Huge daily shipments are arriving daily. When you shop early in the season, you'll benefit by having a longer period to wear your purchases. Longer wearing season = lower cost per wear!
I've recently updated my 'SHOP MY FAVORITES PAGE'. Tap on Spring Dresses, Fav shoes, Pieces I'm Digging Now, Bags Baubles & Accoutrements, and Vacation Necessities.
Check it out and make sure to subscribe here so you never miss a post.
*Please note: I have linked everything to make shopping easier for you, just tap on the highlighted words to shop. Many of you have asked if I get credit when you purchase from my links and the answer is YES, I do receive credit so thank you so much for your support and loyalty! xx, rose
Fun Cotton Wrap Dress
This Mara Hoffman dress caught my eye as soon as I saw it! I can see this outfit in the Hamptons, Charleston, Tulum, and just about anywhere. These rainbow Gucci espadrilles will match everything and are very comfortable … priced under $600 they will sell out. They are available however not online to link. You can reach me by email at rose.hayes@nordstrom.com to purchase. A big beach bag is now a summer handbag staple to wear all the time. Stylist Tip: use the dustbag as a liner inside the tote, tie the drawstring so your belongings don't fall out!
Have you noticed an explosion of color lately in stores and online? I'm so glad to see bold vibrant color at all price points from a bright orange-crush silk dress by Stella McCartney to a neon pink silk chiffon Asos dress that I recently purchased myself. The most prominent colors you'll be seeing everywhere this season will be: lavender, lemon yellow, hot pink, grass green, toffee, and light blue. So if you've been comfy in your all black outfits, it is definitely time to shake things up, YOLO!
tap here -> HAPPY STYLE BOARDS TO SHOP <- tap here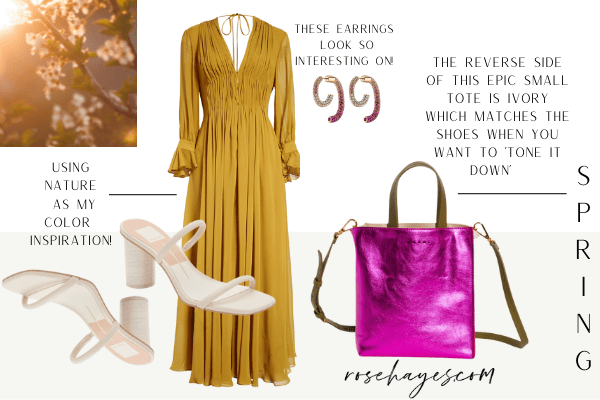 SHOP HERE:
Gold Dress Board | Blue Dress/Green Tote Board | Lavender Board
You're Pretty!
I love how soft and feminine this Ted Baker dress above is. It's pefect to host a baby shower or to wear on Easter Sunday. At 3 inches, the gold sandals are the perfect heel height. Wear gold strappy sandals with a pretty dress but they're equally clever worn with jeans and a white shirt. You'll be impressed with how many things that you already own they will match!
SHOP HERE: Easter Brunch HERE
NEW FRESH TOPS
White jeans and a pretty top are a spring/summer must-have combo! Getting dressed doesn't get much easier than white jeans + cute top! I was pleasantly surprised by these winners above. I almost didn't try the stripe Veronica Beard top but am so glad I did… its a good one that you'll wear on repeat!
SHOP HERE -> Blue Stripe Shirt & white jeans | Black cotton top with organza bow | Stripe seersucker shirt
Brunch in Charleston (left) | Spring Fling (right)