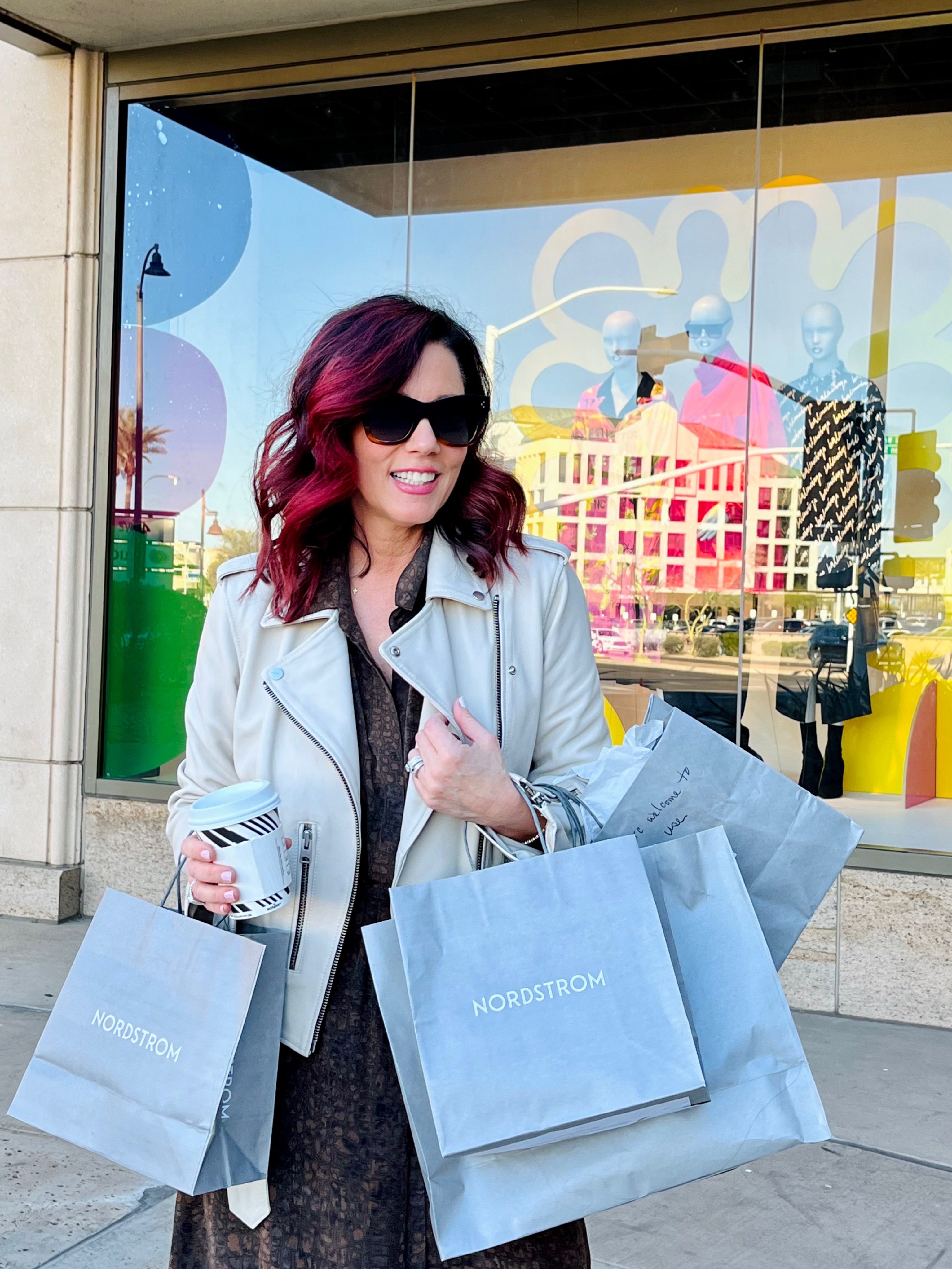 Everyone loves to shop at Nordstrom but did you know they're also a great employer to work for? For the last seven years I've been very fortunate to temporarily transfer in the winter from the Pittsburgh store to Scottsdale's Fashion Square and then back to Pittsburgh in the spring. Beside the benefit of escaping the harsh winters, Darin and I also get to spend extended time with two of our sweet grandkids and daughter Alexa who live nearby. Beautiful weather, beautiful store, and beautiful grand babies… I'm in my happy place 🙂
This year, I was super impressed (and overwhelmed) with the amazing assortment at the Scottsdale store, especially in the designer and contemporary departments. It's truly mind blowing and shows that people are back to getting dressed, traveling and going places… FASHION IS BACK! In order to show you a fraction of what's available, I've decided to make this a weekly series where I will take it all in, digest and present the WINNERS here on rosehayes.com. You can tap on the links and virtually shop with me! If an item is not linkable, no worries… I can send it straight from the store to your doorstep. Ok lets go shopping!
EVERYONE LOVES ZIMMERMANN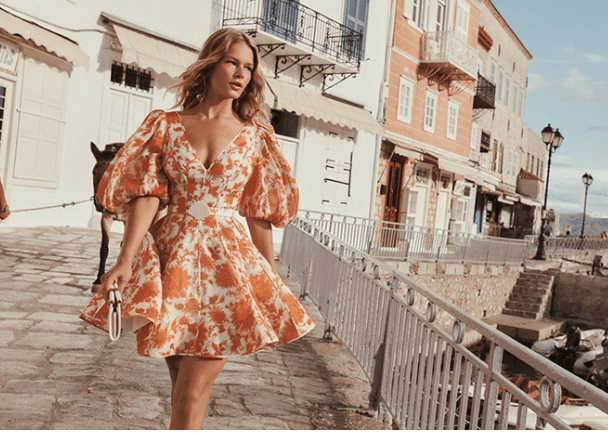 Do you have a wedding, spring event, or beach vacation coming up? Zimmermann has the perfect pretty dress for you! It's the epitome of sophisticated femininity and everyone swoons when they see this collection in person. There are shorts, gauchos, blouses, skirts, midi and mini dresses. Check out the prettiest pieces for your mini me too, tap here! Also beautiful is the Zimmermann SWIM collection. The quality and clever styling is superb. Please note that Zimmerman is Aussie sized 1-4.

BAGS & SHOES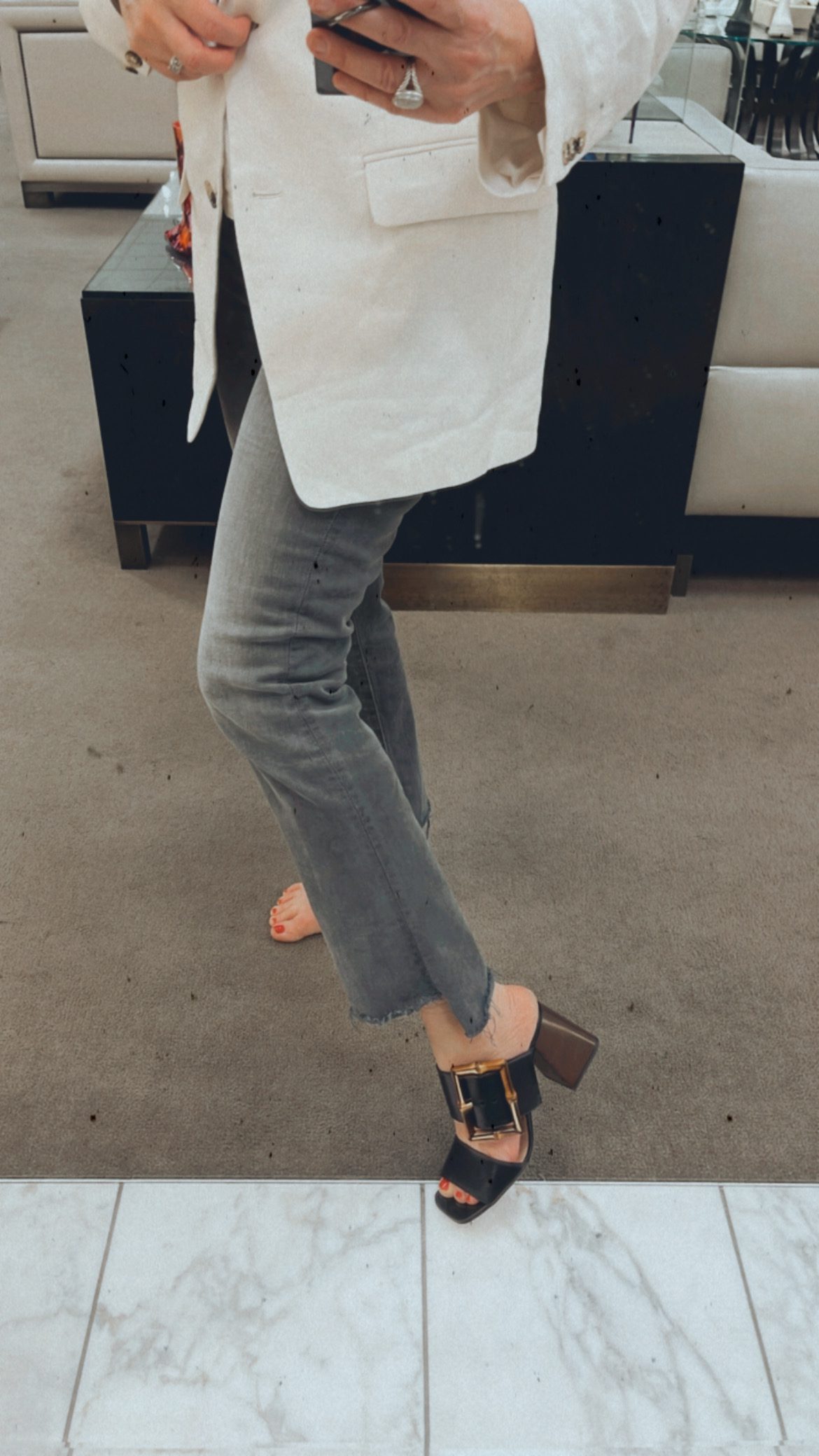 When you're in a great Nordstrom store, which department do you go to first? My daughter always hits the cafe for that yummy tomato basil soup, but I'm guessing a lot of you go straight to the Shoe and Handbag departments first. Check out some of the goodies I've spotted… my personal favs are the Bottega Veneta (my dream bag) in the first photo and the Stella McCartney graphic tote is on my list. They are so light weight, roomy and super fun!

THE DENIM GALLERY
If you're a trendsetter, you're going to love these off the beaten path denim styles like the barrel cut jeans, paperbag cinched waist shorts, pull on jeans and more! I personally want those black wash denim joggers in the first photo . Mother Denim is looking so good … check out all the new styles here.
How cool is this mix – a conservative looking Veronica Beard jacket (above) with those inside out barrel cut Frame jeans?! Its all about the interesting juxtaposition that takes a so-so outfit to spectacular and fun! Add a white tank, strappy sandal, and accessory and look how cute you are 🙂
Shop cute denim and the tops from the gallery above here:

An Instagram follower asked me if the 'basket weave' patterned cotton sweater was Bottega Veneta … a great guess but its actually a much less pricey fresh brand called Staud ($225). It inspired me to build 2 unique style boards around this piece.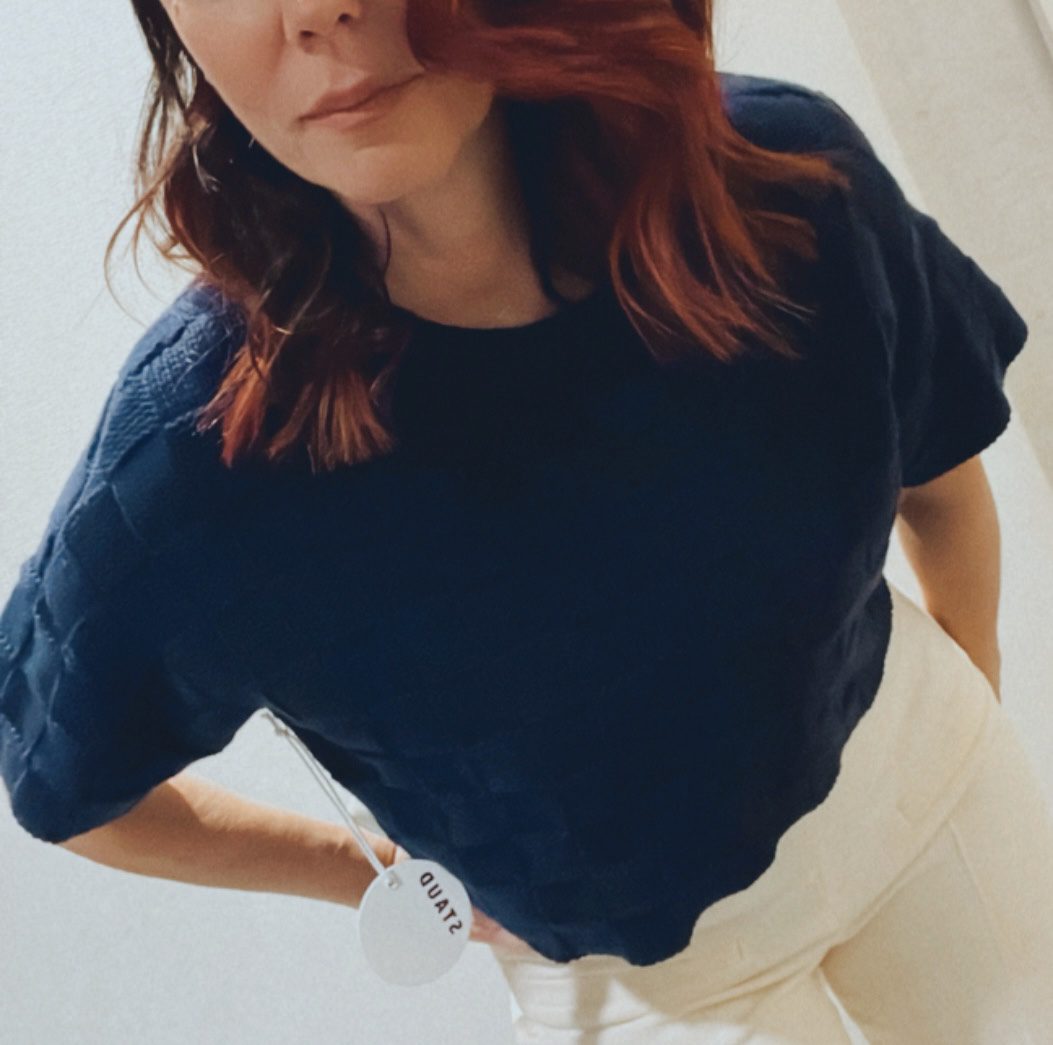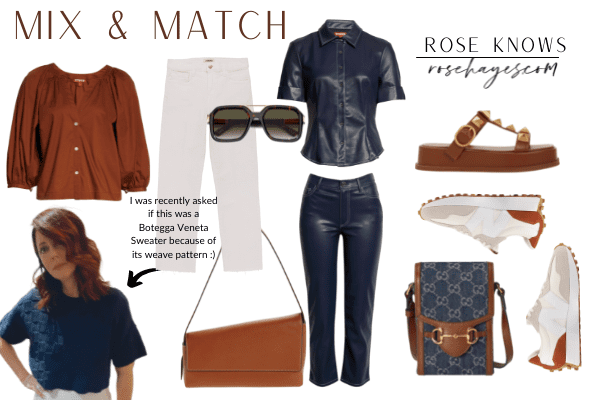 Burnt Siena & Navy
I think these colors are so rich together. Notice how a bit of white adds crispness and gives more outfit combinations – perfect for travel! Check out the white and siena New Balance kicks, love them!!

---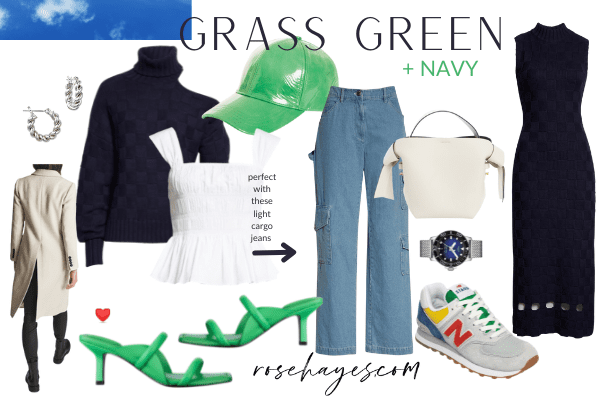 Grass Green & Navy
If you haven't noticed, Grass GREEN is huge and everywhere right now! This color combo is so fresh, don't you think ? Both the navy cut out turtleneck sweater and the sleeveless sweater dress are the same fabric as the navy "Bottega weave" short sleeve sweater above! I'm a fan of all 3 but would prob go with the dress now going into spring. Add a white denim jacket like this one by Alice & Olivia over the sleeveless navy sweater dress, perfect!

Ulla Johnson, another favorite!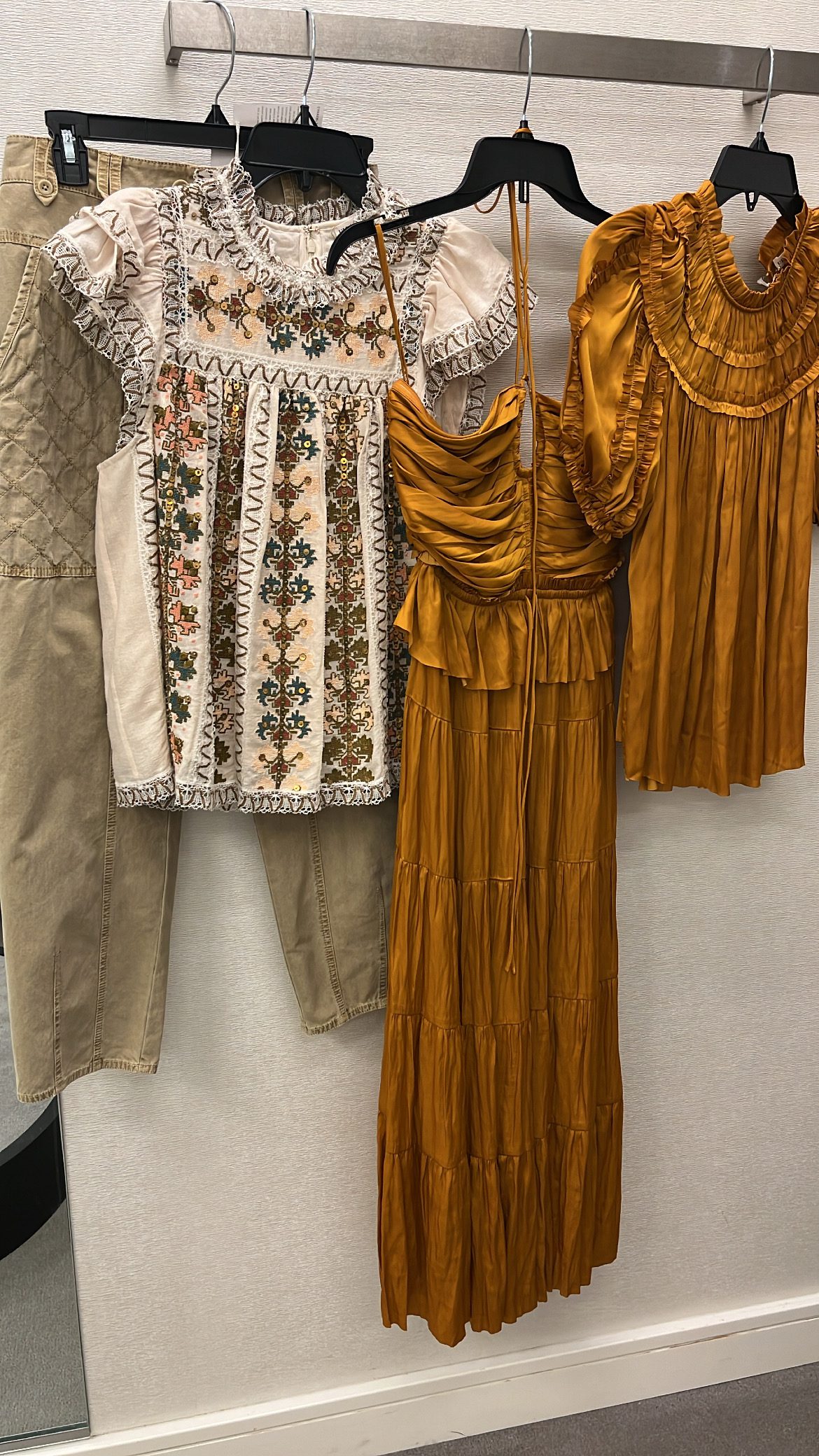 Check out more Ulla Johnson to love here.
La Ligne is known for their beautiful soft stripe sweaters but did you know the dress collection is so pretty and totally on point ?! Check out the LaLigne line here.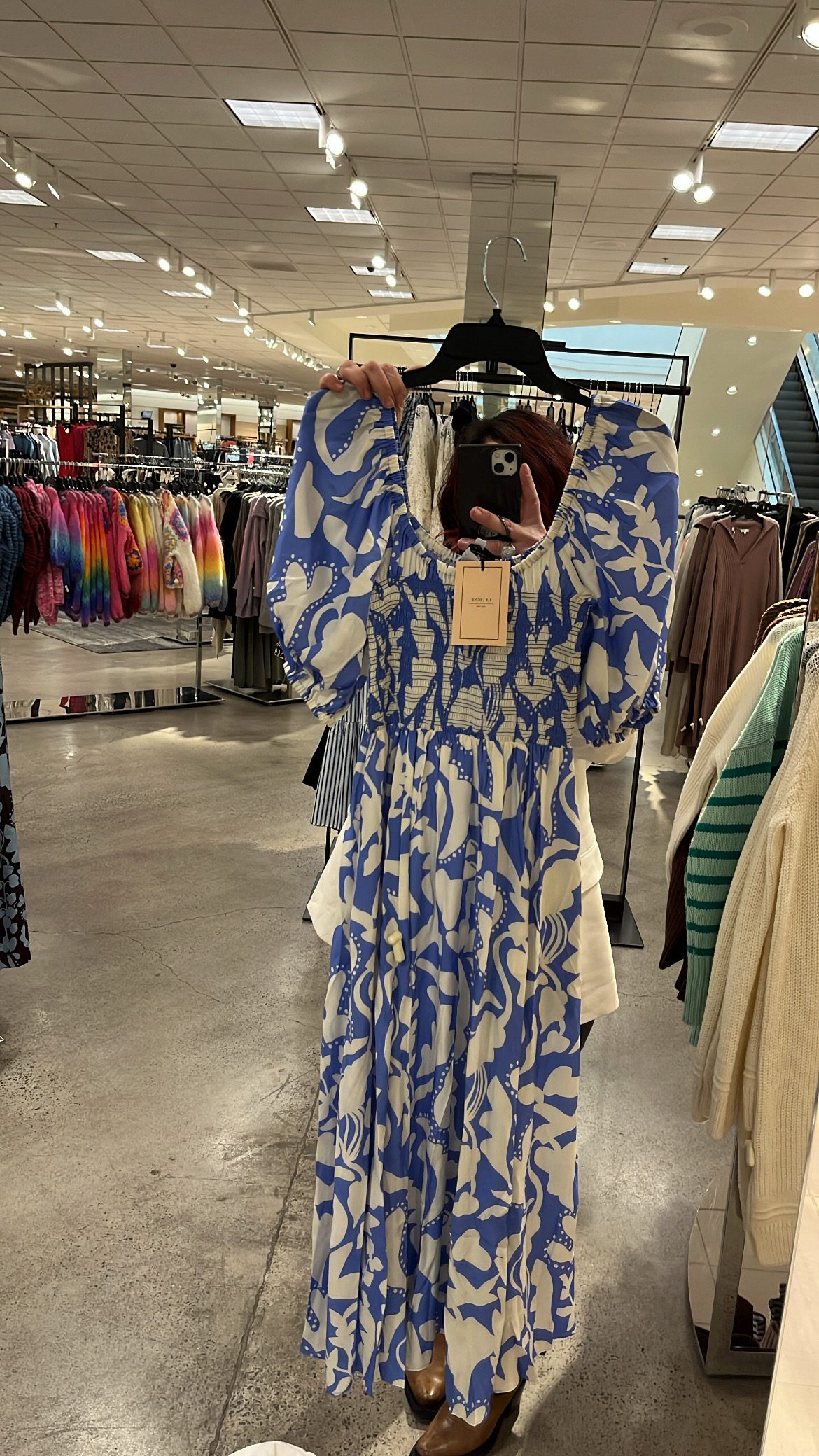 ---
Thank you for reading and shopping virtually with me! A lot of you have asked if I get credit when you shop my links. The answer is yes and I appreciate your loyalty more than you'll ever know! Thank YOU!! Subscribe so you never miss a post!