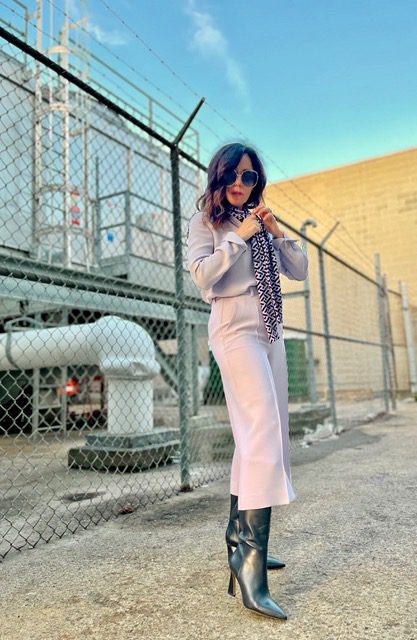 < Wearing Layfayette Blouse and 'Gaucho' Pants, Versace Sweater, Boots >
In my most recent published article for Who What Wear, I was asked "which fashion trends do your customers want to try first?" You can read it here. Rounding up the top favorite trends that my customers are asking for was an easy task. I've linked all these easy to wear trends that will help you stay on top of what's in now. I hope this post inspires you to try new variations and experiment with a hot trend or two:)
*Be sure to check out the latest CHANEL shoes and boots below. Premium designers are not online, so DM for more info to purchase.
1 | 'TOUCH OF WESTERN' BOOTS
I've been enamored with a good western boot for years but when the trend got the 'Chanel Haute Couture' stamp of approval in their most recent runway show, its been an easy sell!
My clients have asked for styles that nod to the cowboy, but not overly western. Look for details like a cuban heel in a mid-calf shaft.
Just like Chanel proved, these boots work with absolutely everything from mini to midi lengths, colorful tweeds to fancy silks to your well-loved denim.
<Wearing older Reformation Dress | Khaite Boots>
FAV WESTERN BOOTS:

2 | ULTAVIOLET HUES
< Wearing L'Agence dress, Balenciaga Bag, Vince Camuto Boots
Purple hues seem to be rivaling the Barbie Pink trend. In fact, Pantone has predicted that purple, Very Peri is the star color of the year!
Lately purple, violet, lavender, cobalt and orchid shades have been in almost every designer collection.
I've been showing clients how to wear this regal color in a monochromatic way. For many, just a touch of ultraviolet in smaller doses like in accessories goes a long way.
Ps. We are loving lavender mixed with shades of coco. Think black raspberry ice cream with milk chocolate chunks 😉
FAV PURPLE AND ORCHID HUED PICKS:

3 | LOAFERS
< wearing Max Mara | Gucci Loafers
My clients are split with about half preferring the classic loafer and the other half craving a loafer with more heft. Both classic and chunky loafers are very popular right now. The chunky loafer is trendy and truly makes an outfit feel very cool and edgy. A flat heel loafer feels rich, think 'country club chic'.
FAV LOAFERS:

4 | BOMBER AND VARSITY JACKETS:
< Borrowed from the Boys Bomber | dress is a night gown from the Nordstrom Lingerie deptartment >
The late Virgil Abloh made unique varsity bomber jackets his signature as seen in his last 2022 show for Off-White.
I've had requests for retro Varsity and Bomber Jackets lately. For my uber fashionista clients, I've been showing oversized Varsity jackets paired with evening wear. It's so unexpected and we've been loving the juxtaposition of an oversize silk or leather bomber jacket paired with dressy delicate fabrics.


5 | CARGO & UTILITY PANTS
< Wearing Veronica Beard Utility Pants | Prada Loafers >
Many of my clients have been wanting a casual alternative to jeans. I've been showing them looser fits like Cargo and Utility pants. These trending bottoms feel modern and more interesting than denim right now. Stylist tip: balance a baggier fit pant with a more fitted top – remember opposites attract!
FAV UTILITY AND CARGO PANTS:

6 | FLOATING HEELS
< Wearing Reiss Dress | Jeffrey Campbell Sandals >
At first glance, these architectural heels seem to defy physics! My clients and I have been pleasantly surprised how this quirky cantilevered iron heel can be so comfortable while making heads turn everywhere.
I first started showing the Fendi F version seen in booties and high heel sandals but now they are available at all price points. This is a simple and unique trend that my ladies have been excited to try!
FLOATING HEELS:

7 | The Knit or Sweater Dress
< Banana Republic Knit Dress | Vince Mules | Balenciaga Bag >
Knit and sweater dresses are always in demand. For one, they're super easy to dress up and down. They look totally chic on their own. Add a shirt on top and tie the ends at the waist. Try a polished blazer for a boss lady look. It's incredibly versatile and a favorite to take on vacation. My customers have been requesting that I send any new knit dresses as they arrive.
KNIT DRESSES:

8 | HIGH WAIST FLARE TROUSERS WITH MATCHING BLAZERS AKA SUITS!!
< Suit by Paige >
Yes Suits are Back! Suits were never out of style but with so many professionals working from home, it had taken a back seat to lounge wear.
There's no denying that a great fitting suit can make you feel like you're able to conquer anything! Lately I've noticed my clients opting for pretty power suits to wear to events in place of a dress! For this look to be more festive and less office like, try a silky deep draped bodysuit or bralette under the jacket. Add a statement brooch on the lapel or a belt over the blazer for added glam and style.
FAV JACKET & PANT COMBOS:

---
NEW CHANEL FOOTWEAR < DM FOR MORE INFO >
* Many have asked how you can SHOP WITH ME so that I'll receive credit. Thank you so much in advance, its easy! Simply click on this Nordstrom Link (or any clickable link above) and shop away! I truly appreciate this added step more than you know!
Thank you for reading! xx, rose