You know that saying, "the early bird catches the worm" ? September is that small window where the best product comes in and goes out just as quickly!
Schedule a virtual or in person (Pittsburgh) appointment with me to get your closet ready for the good times ahead!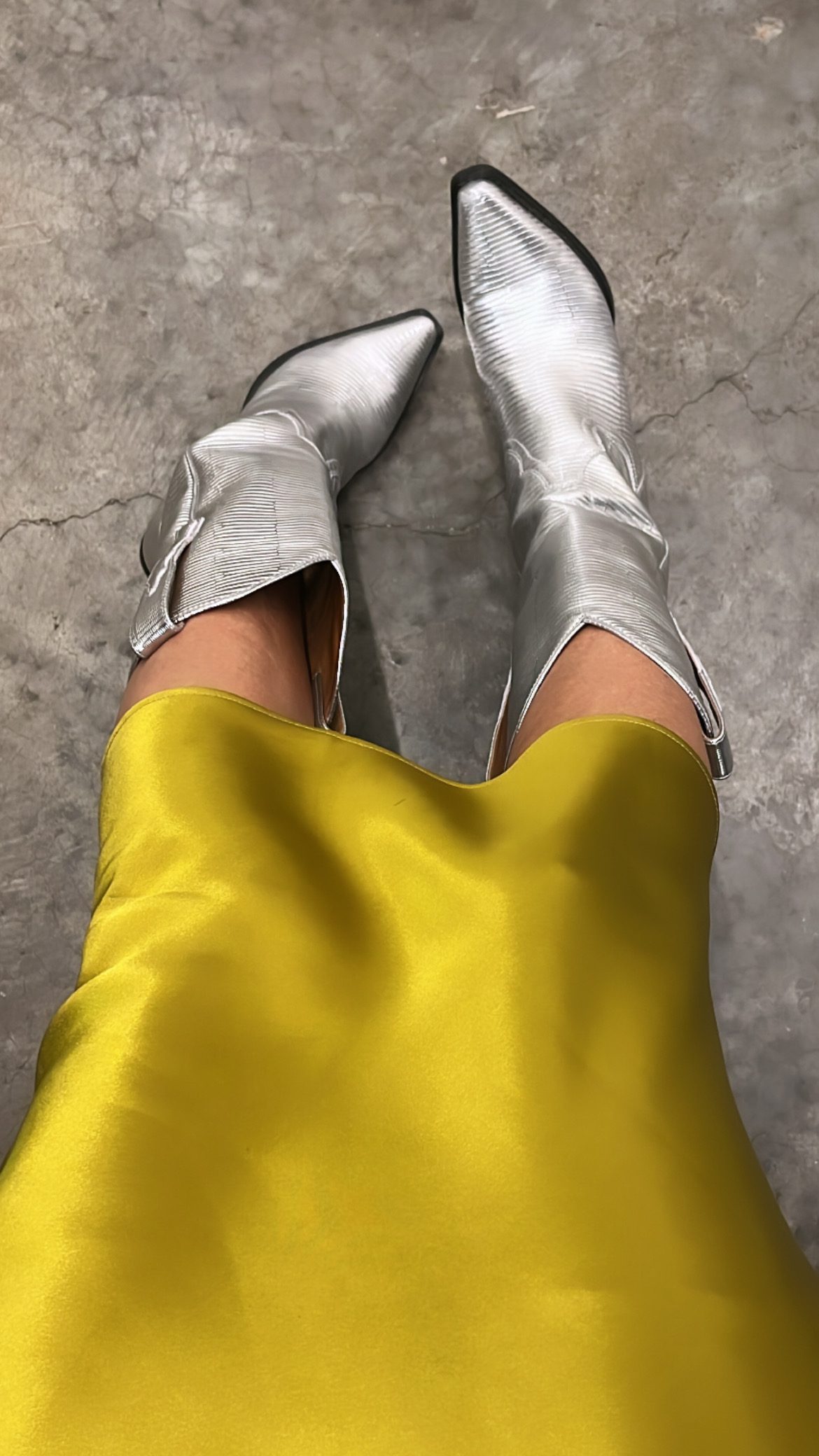 Gold Slip Skirt | Silver Boots (similar)
As a seasoned VIP Personal Stylist at Nordstrom, Fall has always been my favorite time of the year! The inventory is truly the best and new product has been coming in and going out fast and furious!
Trust me I love Summer and a good sun tan but there is no denying Fall Fashion is exciting and the best time to shop for selection and to maximize your wear time! But how do you gracefully transition from warm-weather attire to slightly chillier temps without looking out of place? I've outlined a few tricks to gradually transition into fall and of course, I've included some great finds that I'm loving right now! Lets go…
BOOTS
Swap out your open toe sandals for a boot. This is one of the easiest ways to transition to Fall. These western boots are trending hard and I'm here for it! The shaft height on these are about 11 inch so they will work best with skirts and dresses. They are also available in black too.
BLAZERS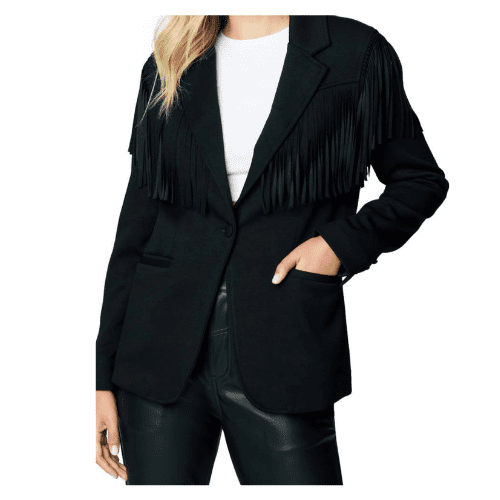 Throw on a cool blazer over your sleeveless tops and dresses. This is an easy way to transition to fall. The black ponte knit jacket above with fringe is perfect to wear with faux leather pants or jeans too. It's also available in tan here.
VEGAN LEATHER SKIRTS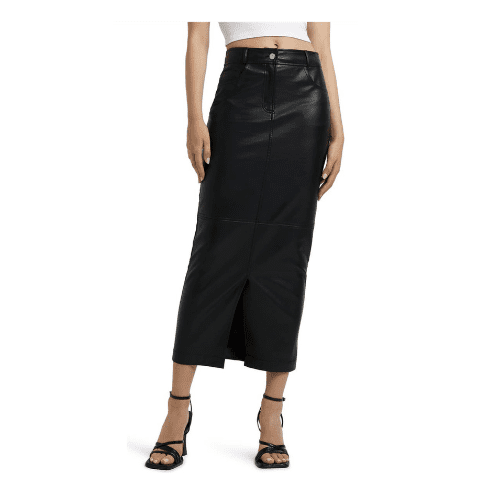 Now is the time to add leather or vegan leather skirts and pants to your rotation. Vegan leather skirt on left, $80 here and the right skirt by Mother, $238 here. When the weather is still warm, wear your open toe shoes to keep your look from looking too heavy. Add this cute embellished Cinq a Sept t-shirt below to your black vegan leather skirt. This will keep it light and fun.
I love everything about this fall outfit here!
DARK COLORS
It may be obvious, but simply swaping out your pastels and whites for darker colors will automatically transition your look to fall. Shop this look here. Can you guess which 2 items are under $100? Add a layer of your choice as the weather changes.
VESTS
Vests are back again and this one above is perfect at $69. You can wear it alone or add a short sleeve graphic t shirt, or a long sleeve button down or try a turtleneck when temps drop. I've linked a few more good ones here:

HATS
Instead of summery cotton and mesh hats, look for interesting textures and fabric hats. Try the easy Model Off Duty Look which comprises of a cute baseball (or trucker or bucket hat) then add a tank top, trench coat, fav jeans, and sneakers.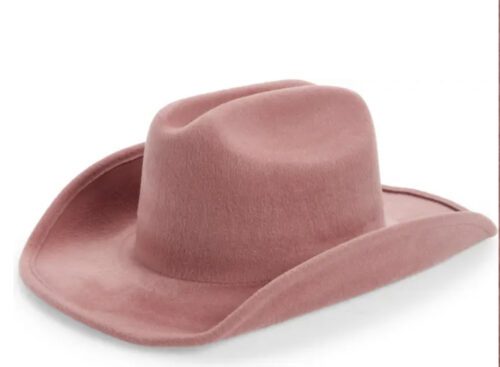 How cute is this pink western hat, under $100
LONG SLEEVE SHIRTS
It's time to swap out your short sleeve shirts for cute long sleeve options! Look for cute novelty details like a ruffle around the neck or cuffs like this one above by Alex Mill. Stripes are always in style and there are so many good ones to choose from right now. I'm also in love with denim shirts lately! I plan on wearing mine with the matching denim trouser 🙂 The denim shirt on the right by rag and bone has the perfect western detailing that makes me love it even more! It is a little on the long side but can be altered shorter. I wore my denim shirt belted with a skirt the other day.
SWEATERS
If you're like me, I'm cold one minute and hot the next! Fall is perfect for layering so that you can add or subtract as the weather changes. Try a chambray shirt and add this sweater over your shoulders. This cute cotton sweater above would look adorbs with favorite broken-in jeans, add a brown belt and clogs.
WAFFLE KNIT OFF SHOULDER TOP
I own and love this cotton Free People waffle knit top, $69. I wish it was a tad longer but it does tuck into a jean easily. The thumb hole is a cute detail and I love how soft and comfy the fabric feels! I will be getting more colors especially the white.
SUEDE PUMPS
Veronica Beard Pump, $395. The D'Orsay pump has always been a fan favorite style. There is no denying its lady-like yet very sexy silhouette. The suede fabric makes this pump so perfect for fall. Oh and its available in many colors. You can wear these with your fav jeans (flare or skinny) and is a great option for dresses as well!
DARKER JEANS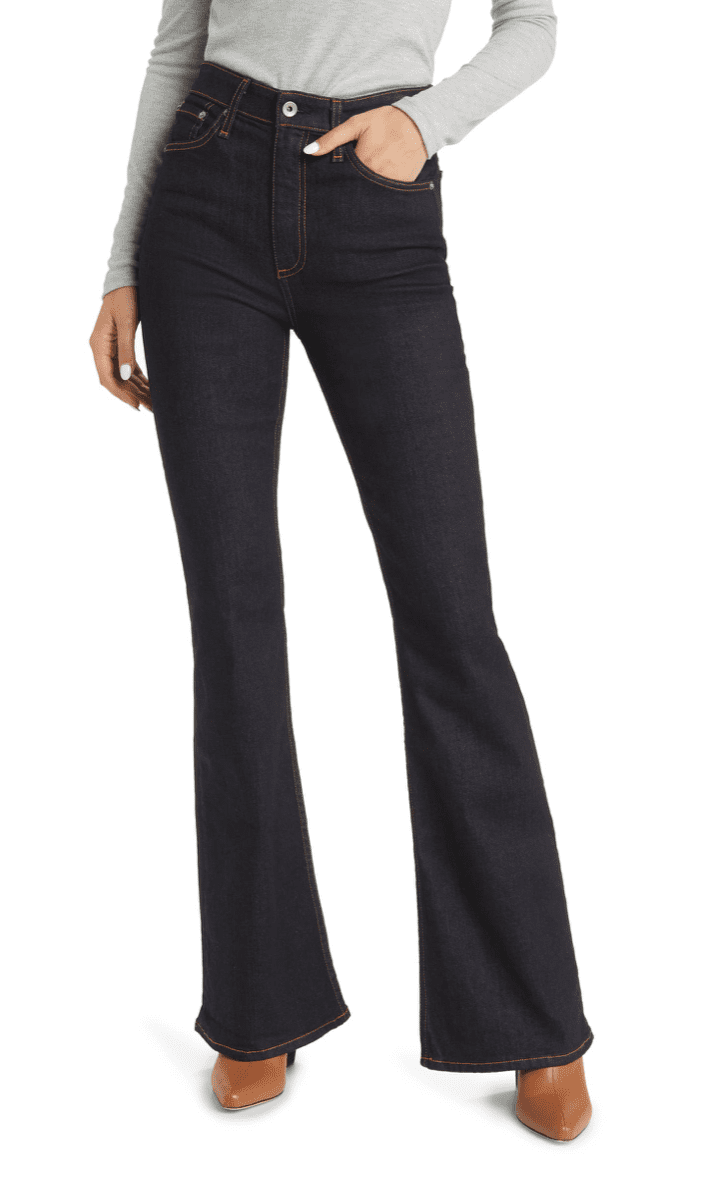 Add a darker denim to your fall wardrobe. The flare on the left is by Rag and Bone and is the same wash as the denim shirt above. The skinny jean on right is waxed and comes in 3 colors by L'Agence.
Very light jeans are still on trend but tend to look a bit summery. There is a lot of controversy about wearing white jeans after Labor Day. And although I love to break the rules especially regarding fashion, I'm still one of the few that believe wearing stark white jeans when the sky is gray and the temps are chilly looks well lets just say … simply put, it looks out of place. Ecru or winter white is an exception but for the most part, save the white jeans for warm sunny climate areas such as Florida and California.
DRESSES WITH SLEEVES
This sweet Rails dress is a perfect transitional option because it has sleeves but is still light weight for warm temps. Add a blue denim jacket for added warmth and cute layer.
TEXTURED HANDBAGS
Fall is when we bring out the textured handbags. Think tweed, shearling, suede, and fur just to name a few of my fav textures. These are the materials that make us love this time of year so have fun when choosing your next handbag. Shop this look here.
SWEATER COATS
I love this sweater coat which comes with the detachable scarf too! Its dramatic, editorial, chic and warm too!
* Many have asked how you can SHOP WITH ME so that I'll receive credit. Thank you so much in advance, its easy! Simply click on this Nordstrom Link (or any clickable link above) and shop away! I truly appreciate this added step more than you know!
Thank you for reading! xx, rose