Need a little pick-me-up? From pretty baubles to the hot bag to own now, there is something for everyone… these are the things that make life a little sweeter and who doesn't need that right about now?
---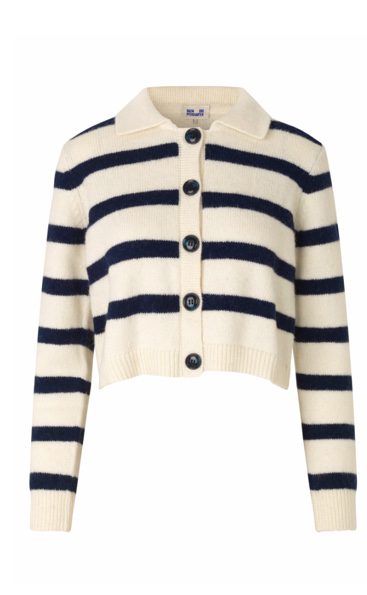 There's something about a Navy & Cream stripe sweater that feels bold and fun but also classic and French.
Roseknows Styling Tip:
Wear this with a pattern skirt or slipdress – yup, I'm pushing outside your comfort zone:) For a more traditional take, try this stripe sweater with a sailor pant or jean (Fidelity Denim will have the perfect sailor jean that you will love coming out this fall so stay tuned). Fun fall activities are around the corner, so pair this sweater with a bandana or pretty twilly and your favorite boyfriend jeans and camel boots and you're ready for anything.

---
I've always been a fan of green mainly shades of olive and army green but lately I've been so enamored with this vibrant shade of grass green!
It's no wonder that this color is trending, thanks to Bottega Veneta who embraced this bold color in their woven leather bags and sprinkled it thru the entire 2021 collection. We are seeing it everywhere, treat yourself to something special in this fresh fun green color.
This green silk dress looks great with a black leather jacket and tall boots. Check out the emerald green 14k diamond stud earrings which are the perfect shade of emerald green. To infuse this lush color in your life, shop my picks below!

---
When I was in grade school, a new school year meant time to shop for a new backpack. Now a new season means time for a handbag refresh. My friend Kim discovered this tote and its a good one! It checks off all my boxes: quality, size, price ($395), great colors, and great practicality. The medium size is more than ample to fit all your work essentials like water bottle, laptop, lunch, and extra shoes. Check out all the fun colors here -> Proenza Schouler and here …totes.
---
You may have noticed this Jacquemus iconic Chicuita necklace on me lately … I LOVE IT and highly recommend that you grab it fast before they sell out! These chunk chains are great on their own and make a WOW statement but also are pretty fab layered as well! Shop here and here .
---
Life's short, treat yourself and enjoy!
Thank you for reading and please share RoseKnows with a friend! Your Virtual Personal Stylist is just a DM away 🙂
Fashionably yours,
rose