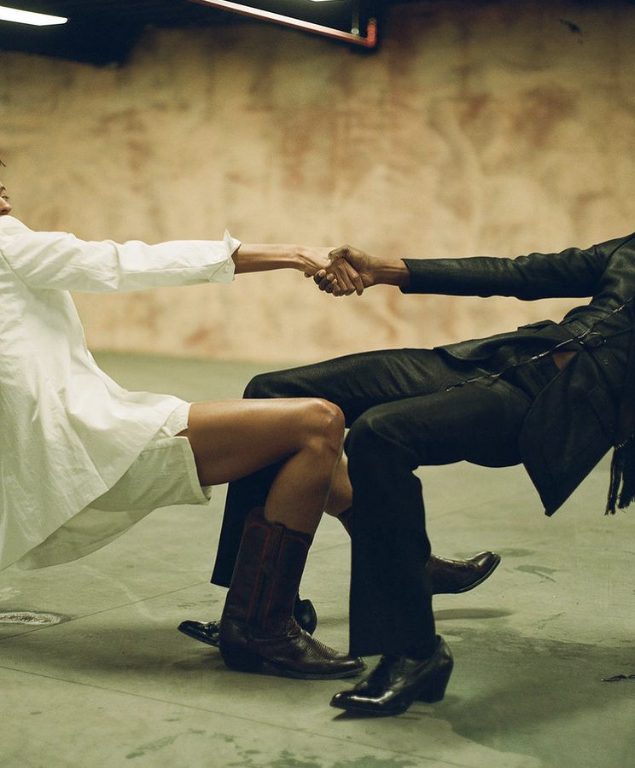 I grew up in upstate New York not Texas or Nevada, so I can't explain my huge soft spot for western wear. One of my favorite childhood photos is me at age 5 in a red cowgirl outfit complete with cowgirl hat, fringed vest and cowboy boots. I wanted to wear that get-up everyday … fast forward to 2021 and I'm still a huge fan of this look!
Thanks to trend setter celebrities like Kendall Jenner, Dua Lipa, and Miley Cyrus, the WESTERN TREND is everywhere. Designers that infuse western elements are Isabel Marant, Khaite, Saint Laurent, Zadig & Voltaire, Balmain, and Chanel.
ROSEKNOWS STYLIST TIP:
Although tempting, limit one western statement piece per outfit to look chic vs. costume-like. Take a look at how one touch of something western can up your cool factor by 100%.
SHOP boots with silver toe kick SHOP Western Hat SHOP Tall Western Boots
---
We all know Golden Goose for their very popular worn-in sneakers but recently they have debuted a collection of ready to wear that has fashionistas in a frenzy! The Italian made brand is celebrating its 20th anniversary with its Archive collection and trust me, its fabulous! As my friend Seth would say, "I'm dead" and the feeling is definitely mutual!
---
Cognac western crossbody with turquoise buckle | Black leather/leopand calf hair crossbody with black buckle
---
You may have noticed that I wear these western inspired boots year round. Make sure you have plenty of bare skin to keep the look light during the warmer months.
SHOP MY WESTERN BOOT PICKS:

---
What makes a piece western ? Look for details like fringe, a cuban heel or the sweetheart dip at the top of boots, worn-in well loved denim, plaids and flannels, tiered dresses that beg for a great western boot. Accessories like conch belts, western belt buckles, trucker or western hats, bandanas, and turquoise jewelry are all ways to inject a western vibe. Don't forget my tip above, limit accessories so that your look isn't too 'themed'.
SHOP WESTERN INSPIRED PIECES AND ACCESSORIES:

---
I hope you're enjoying my latest obsessions! Feel free to shoot a DM to your VIRTUAL PERSONAL STYLIST @rosehayes on instagram or email at rose.hayes@nordstrom.com.
Stay fabulous and thank you for reading, xx rose