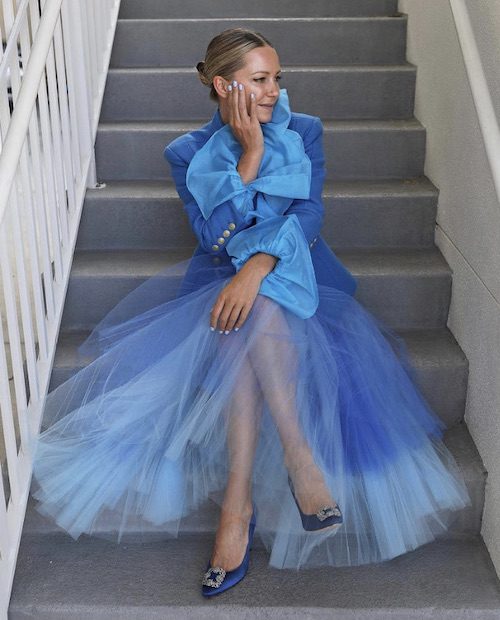 We've all missed gathering with friends and family to celebrate life biggest milestones. Now that we're back, let's celebrate BIG with beautiful bright colors that inspire JOY!
No one does big bright color better than Blair Eadie from Atlantic-Pacific. That graduated blue toile skirt pairs perfectly with Carrie Bradshaws famous blue Manolo Blahnik satin signature Hangisi pumps (see above). I love the structured blazer juxtaposed to the light airy skirt and exaggerated collared silk blouse – all in the same luscious hue! You're freakin FABULOUS Blair and my muse for this color packed post.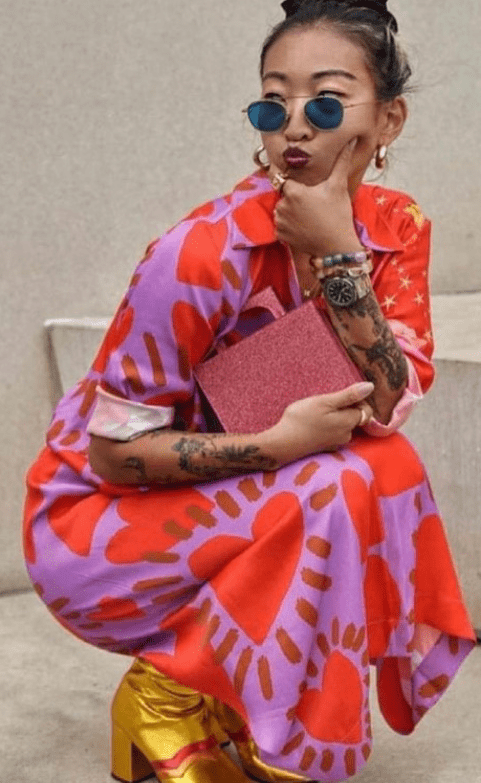 Happy days are here so let's put away those dreary gray sweats.   Ease into your new happy wardrobe with a bright hue top like this one from Farm Rio.  Now grab a great NEW white  jean by Frame.   You can tone it all down with a white or nude sandal or go all out and tell the world who's boss with brightly hued footwear like this one by Jeffrey Campbell.   Whether you join the color bandwagon or not, one thing is for sure – It's time to dress up, go out, see and BE SEEN.  Its time for a whole new colorful happy wardrobe! Its time for my rainbow packed Summer FAVS… let the festivities begin!