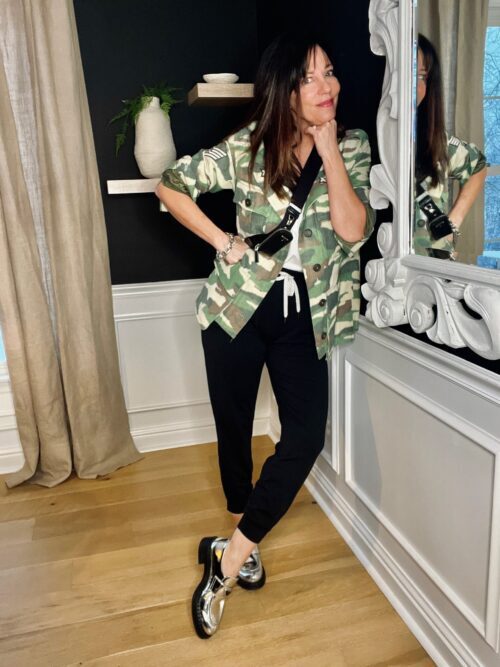 The one thing I show almost everyone that steps in my fitting room is the Vuori jogger. The fit is slim, but relaxed with a slightly cropped leg. The patented 4 way stretch knit fabric is incredibly soft and comfortable plus the moisture wicking makes them perfect to wear to the gym. However these essential pants can be incredibly versatile and dressy too! Needless to say, these are not your average sweatpants!
Left: Vuori joggers | Smythe jacket | Prada loafers Right: Vuori joggers | AllSaints Duster | Frame t-shirt | On Cloud sneakers (similar) | Proenza Schouler tote
Where to wear jogger pants?
Joggers are a great staple pant to travel in or to just run errands. When the weather is slightly chilly, I wear my joggers with a hoodie for brisk walks. Recently I bought these hiking sneakers and will be wearing my joggers on our Sedona hiking trips.
Although I love to dress up for work, as soon as I get home I immediately change into my comfy joggers which sets the tone for a relaxing evening. I bet you do the same.
The other day, a busy Mom asked me how to dress up these lounge pants so that she could wear them out and still look cute and trendy. I immediately rattled off dozens of ways to wear joggers which as a result, sparked this blog post! When you want to look pulled together but still be comfortable, consider these 14 cute ways to wear your joggers.
I encourage you to think outside the box and try unconventional combinations – just have fun mixing styles for a uniquely eclectic look. I hope you enjoy my suggestions to get dressed up without getting too dressed up.
If you're new to Rose Knows, welcome to my virtual dressing room where I'll guide you to the newest finds and latest trends at Nordstrom! Be sure to subscribe here so you never miss a post.
1
I love this look! A long loose trench coat paired with a shrunken top, joggers and cool lugged boots are a cool girls uniform. If you're like me and don't want to show skin, feel free to layer a white button-down underneath like this one here.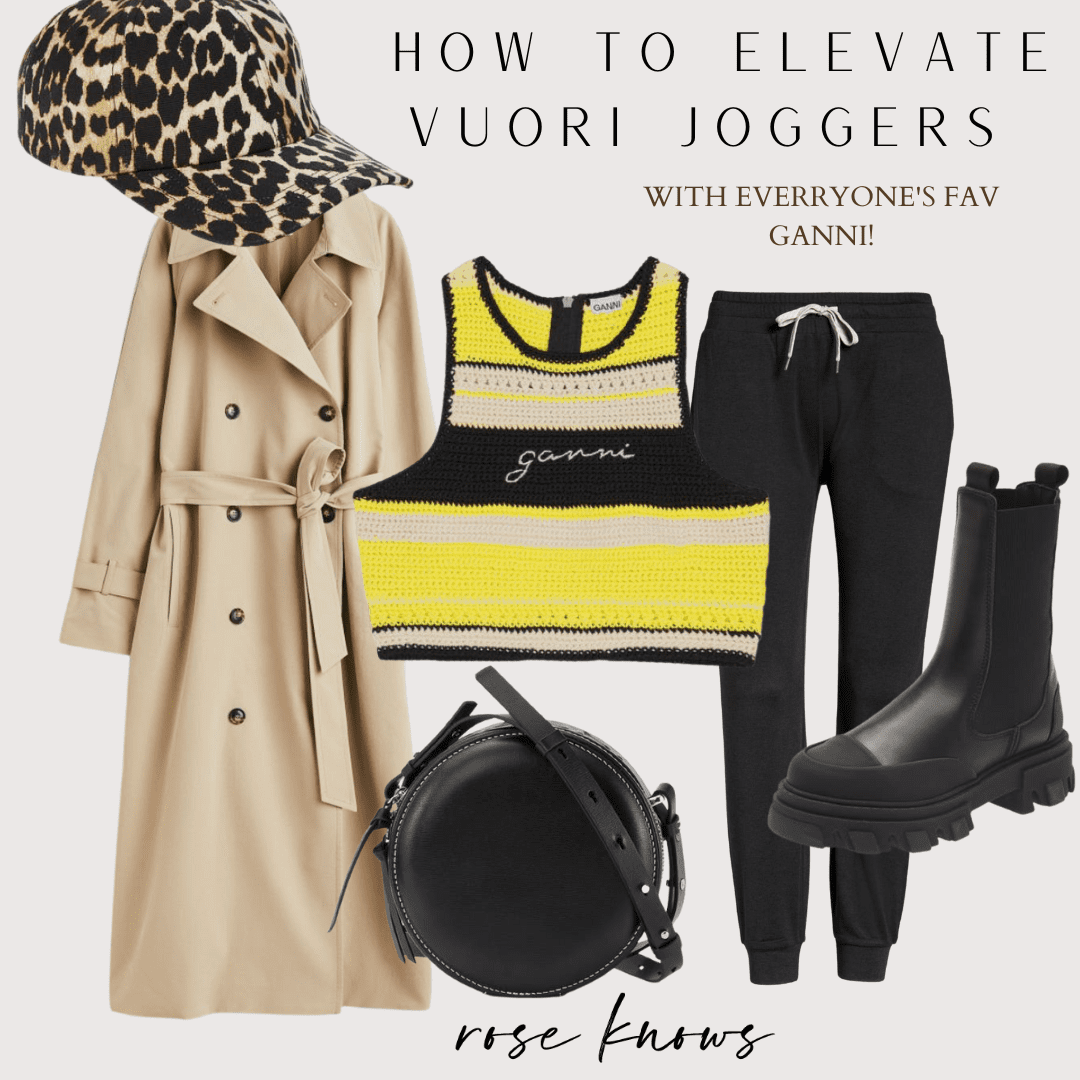 <TAP IHERE TO SHOP>
2
This shacket is more jacket than shirt. I'm obsessed with the Acne Studios cross body for spring and summer!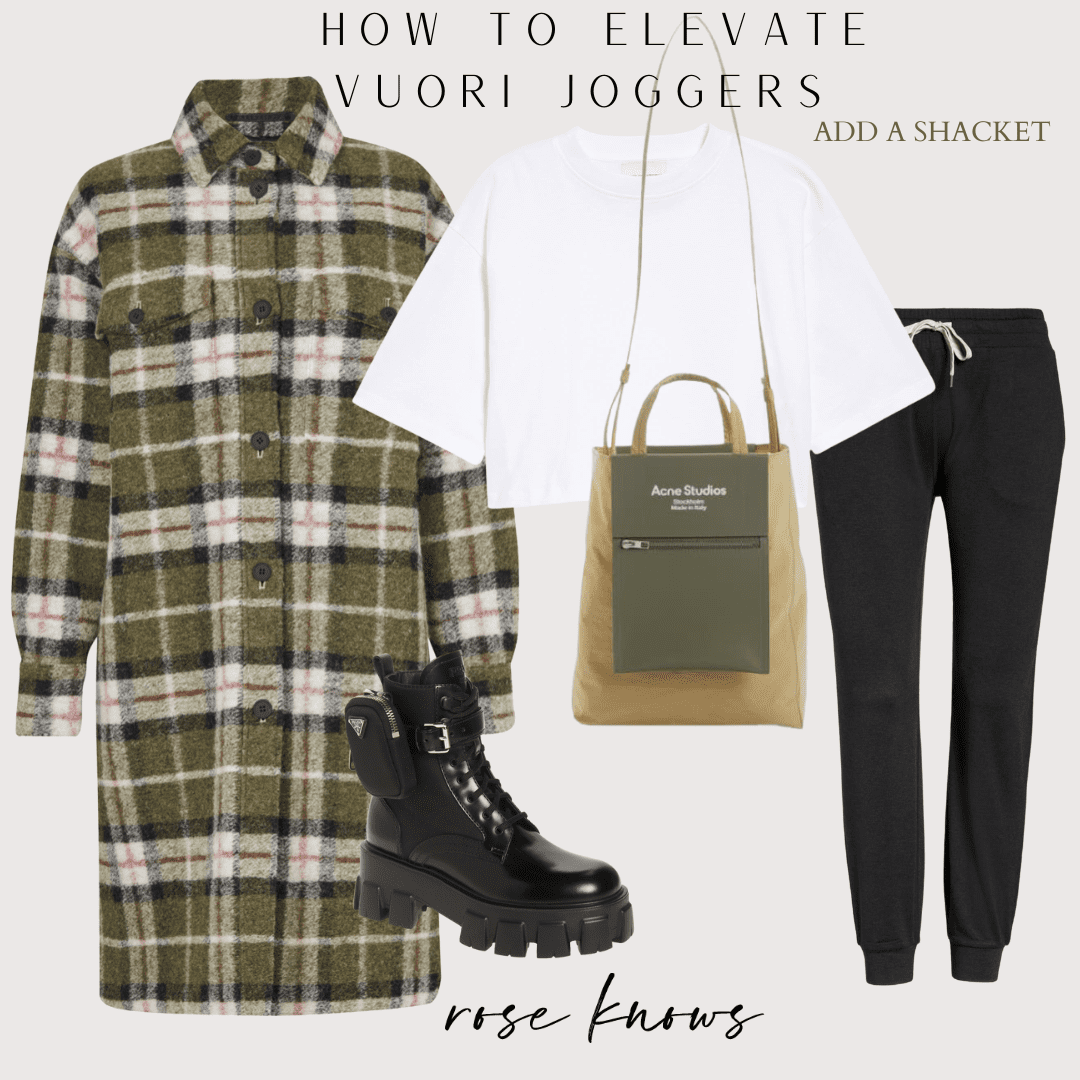 <TAP HERE TO SHOP>
3
Wearing all black with a red lip is totally chic. I fell for this Alice & Olivia sweater the minute I saw it! The adorbs natural bucket bag has a jumbo faux-pearl handle , let the compliments roll in 😉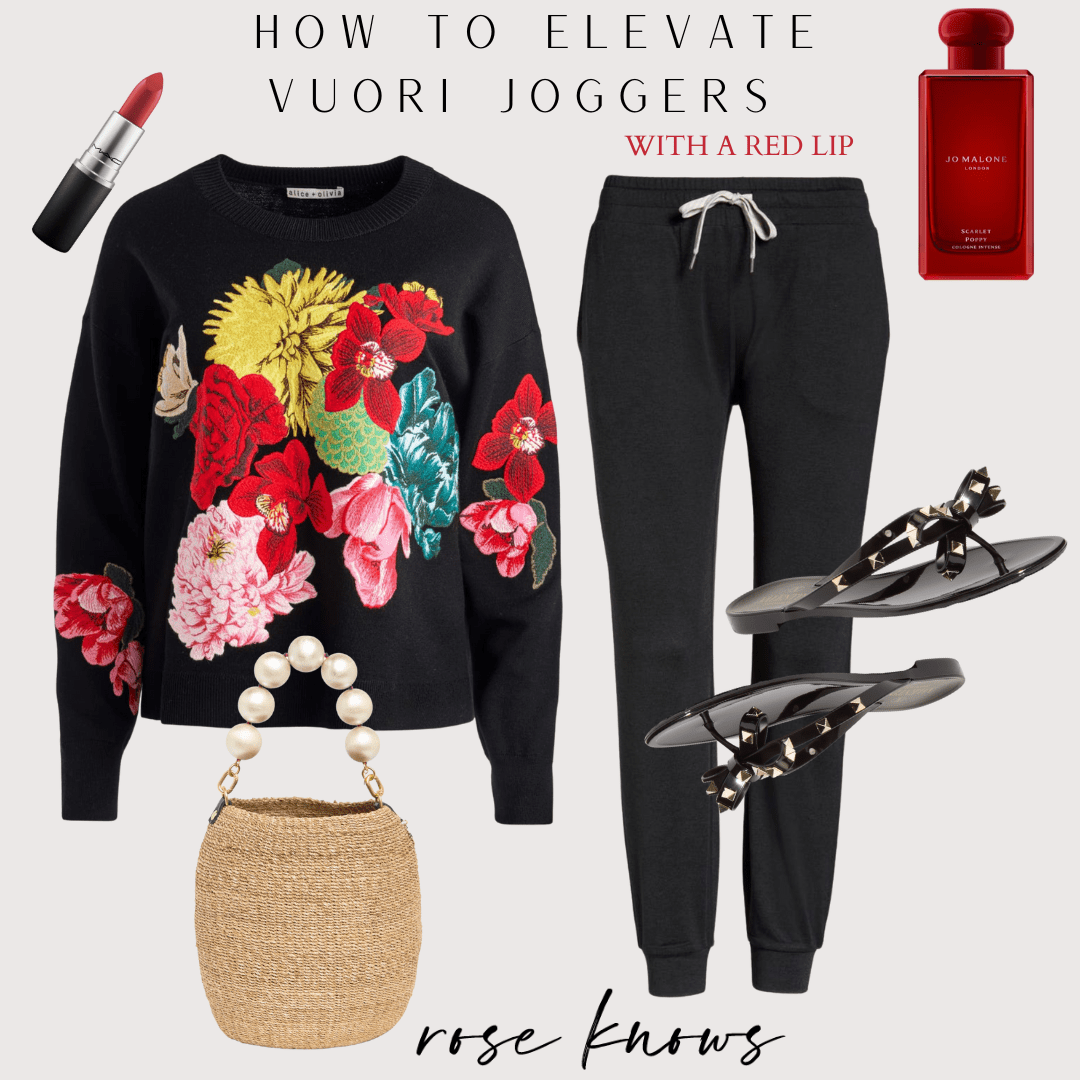 <TAP HERE TO SHOP>
4
Okay I admit this look is all me and I would wear this 24/7 if I could! The leather clogs are currently on sale and come in a few colors here too.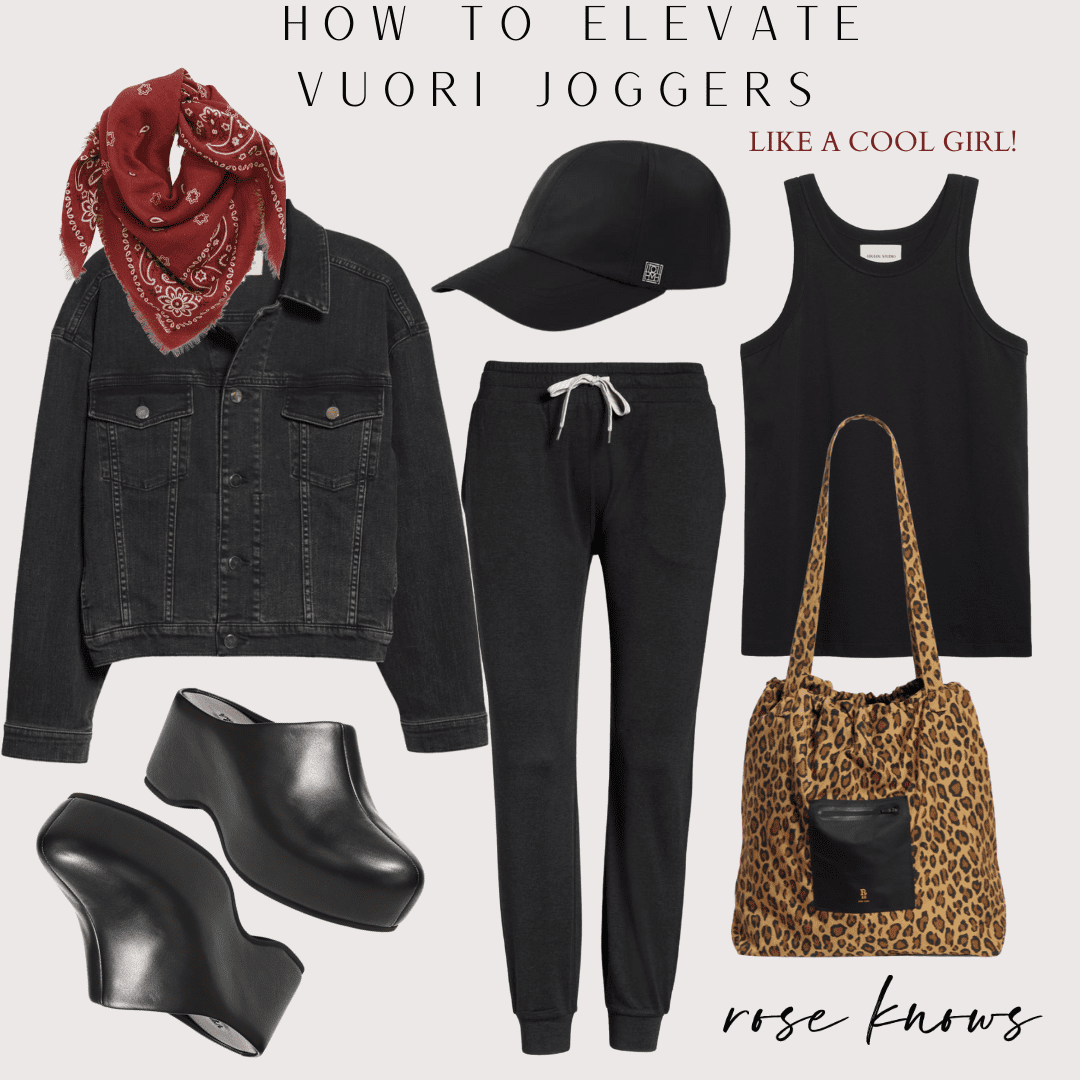 <TAP HERE TO SHOP>
5
One of my favorite styling experiences was curating outfits for a safari trip to Africa. That's one for the bucket list!
<TAP IHERE TO SHOP>
6
You don't have to limit yourself to just sneakers when wearing joggers. Boots will elevate your look especially if they have a little heel.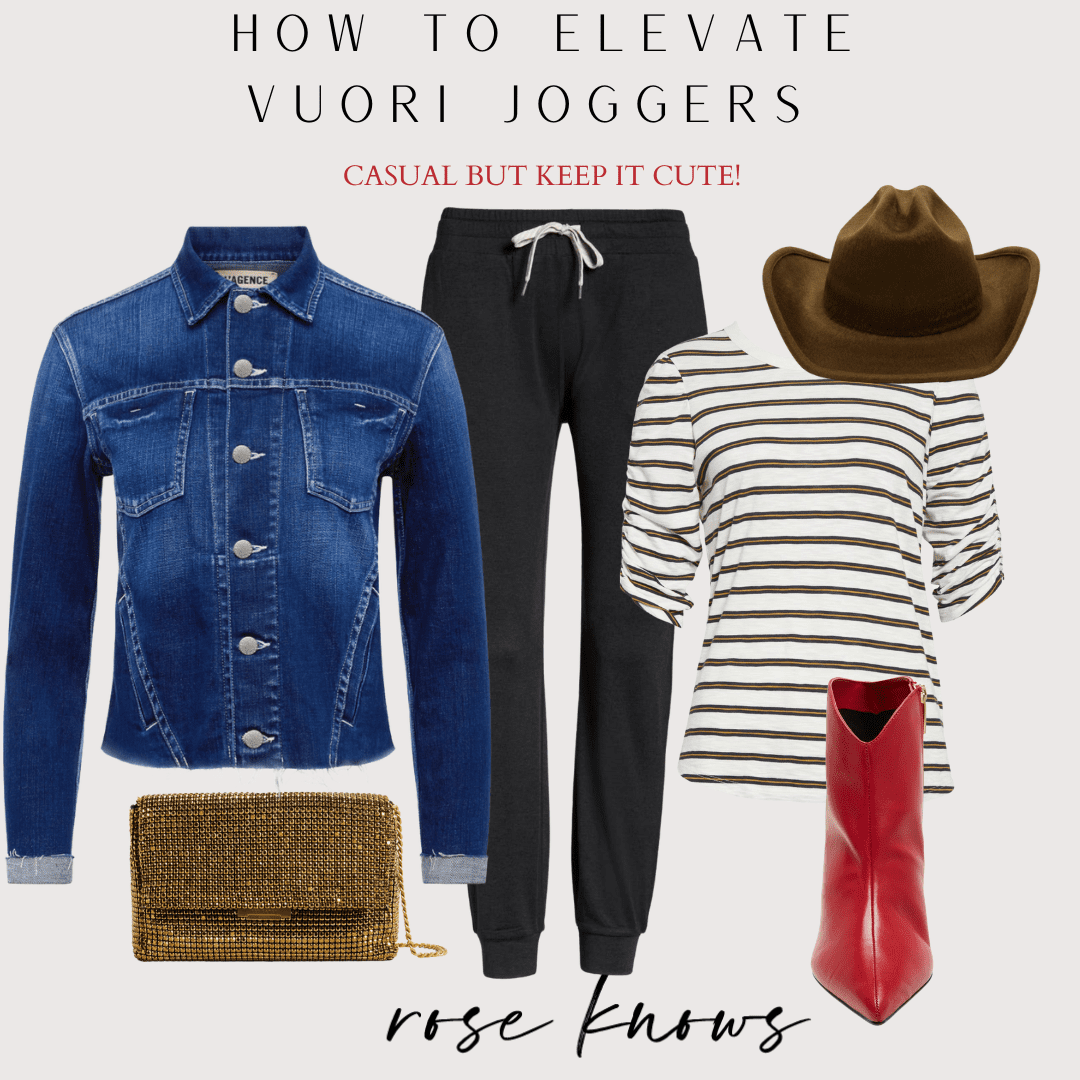 <TAP HERE TO SHOP>
7
I saw this beautiful Varley white cotton sweater and added it to my cart immediately. The brand has been getting a lot of attention lately, check out Varley here. Adding a Burberry scarf definitely adds a luxurious wow factor.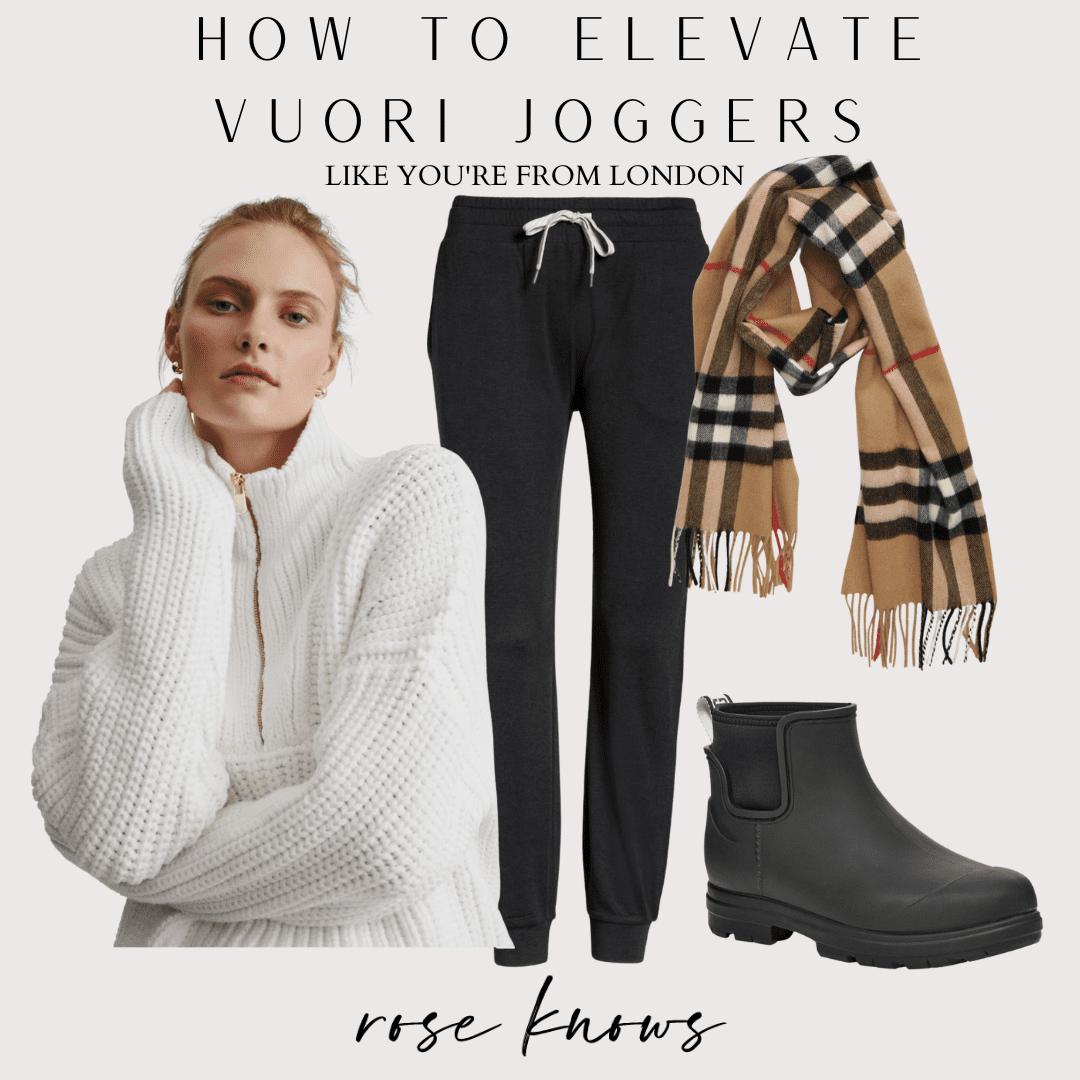 <TAP IHERE TO SHOP>
8
I really like the bling detail on this casual v- neck tee by Cinq a Sept. This is the perfect running around and travel outfit.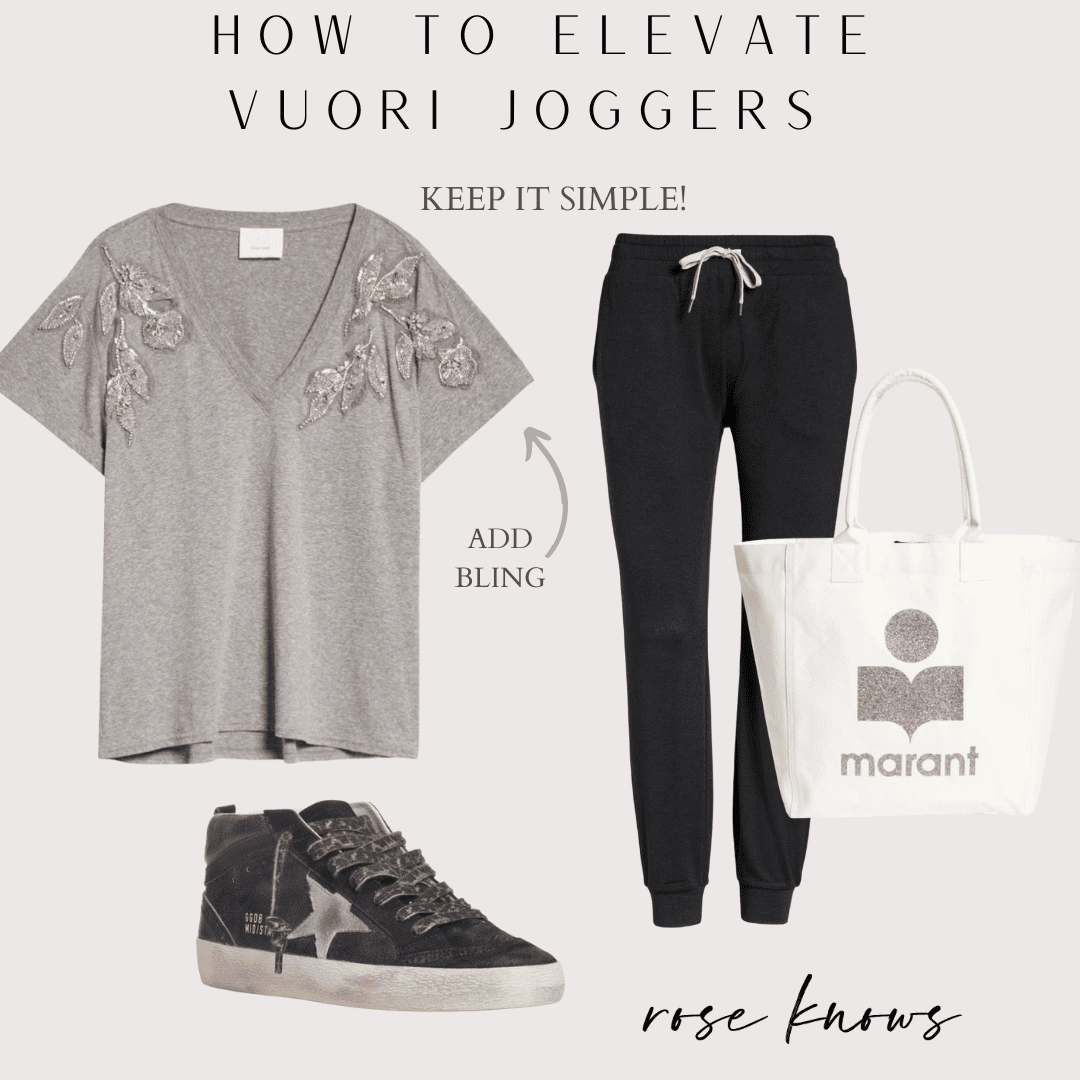 <TAP HERE TO SHOP>
9
I often try on new merchandise for clients or for my Instagram account which is a lot of fun but I usually end up wanting to buy everything!! This jacket was one of those pieces… it's great with jeans. Watch my reel here.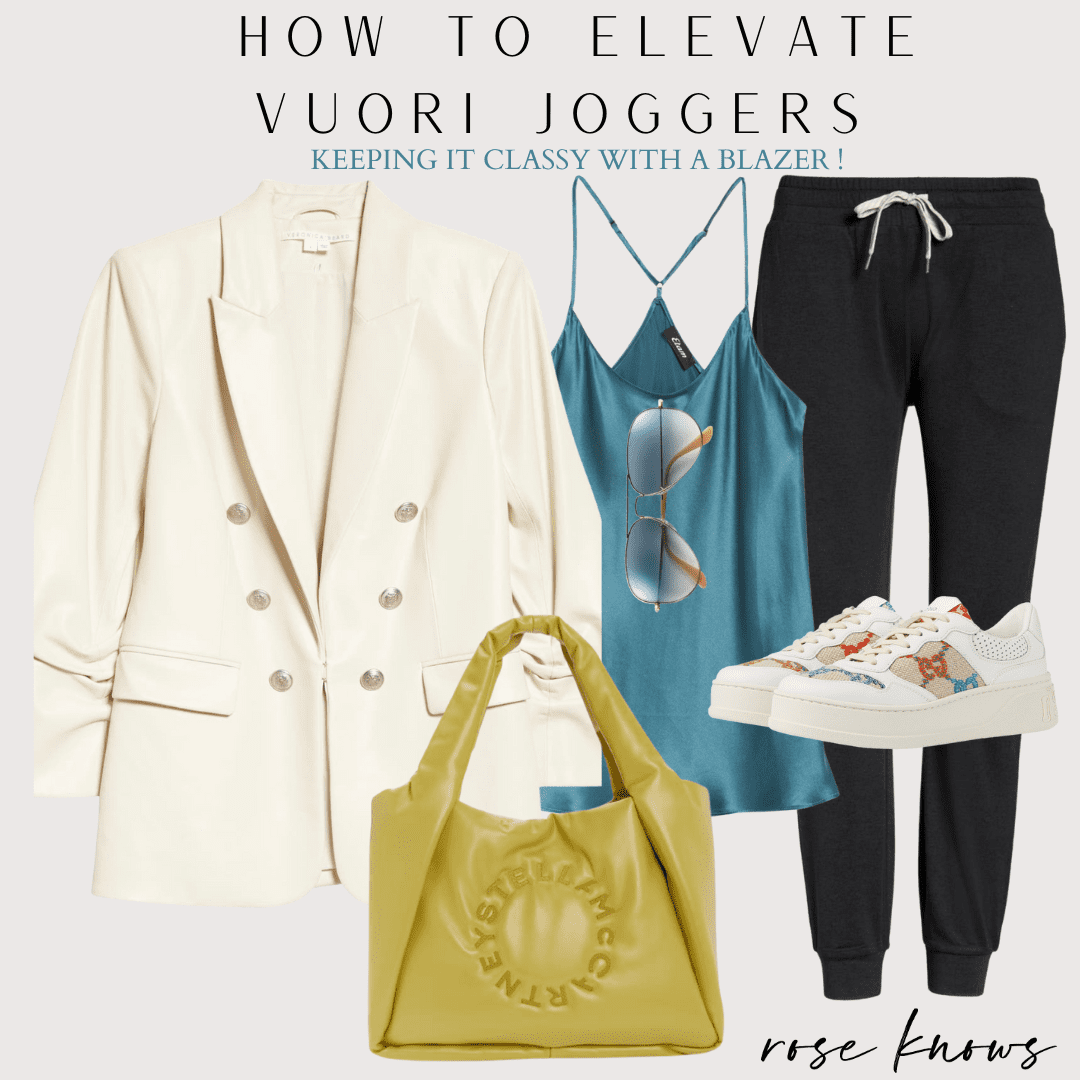 <TAP HERE TO SHOP>
10
I'm very picky with what I show clients in my fitting room and equally with what I show here on the blog. If you see something you like, don't wait because chances are it will sell out like this graphic T by Anine Bing.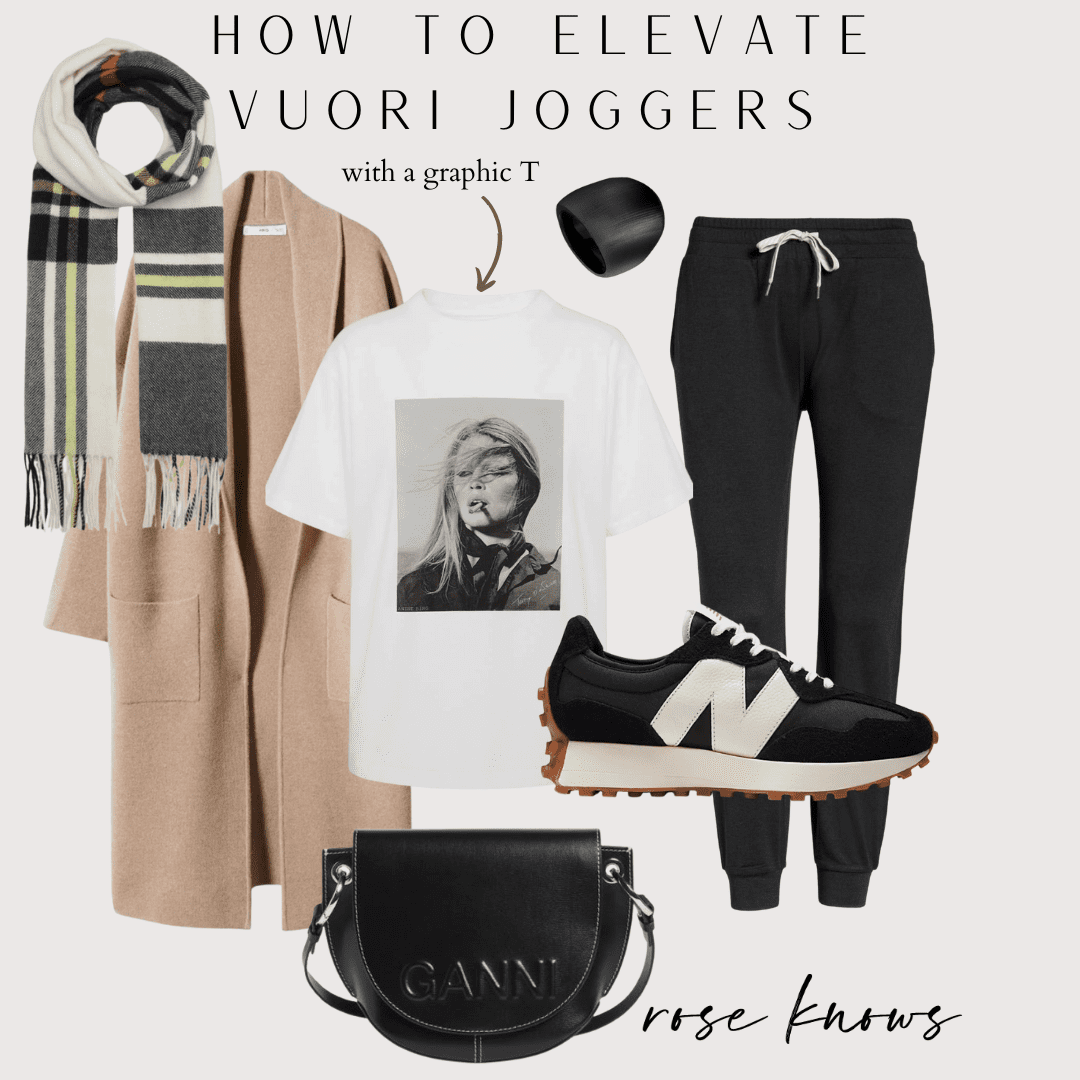 <TAP HERE TO SHOP>
11
Joggers to a rock concert? Umm why not? I'm adding "going to a few concerts" to my goals this year! This is what I want to wear to The Pretenders if they ever tour in the US.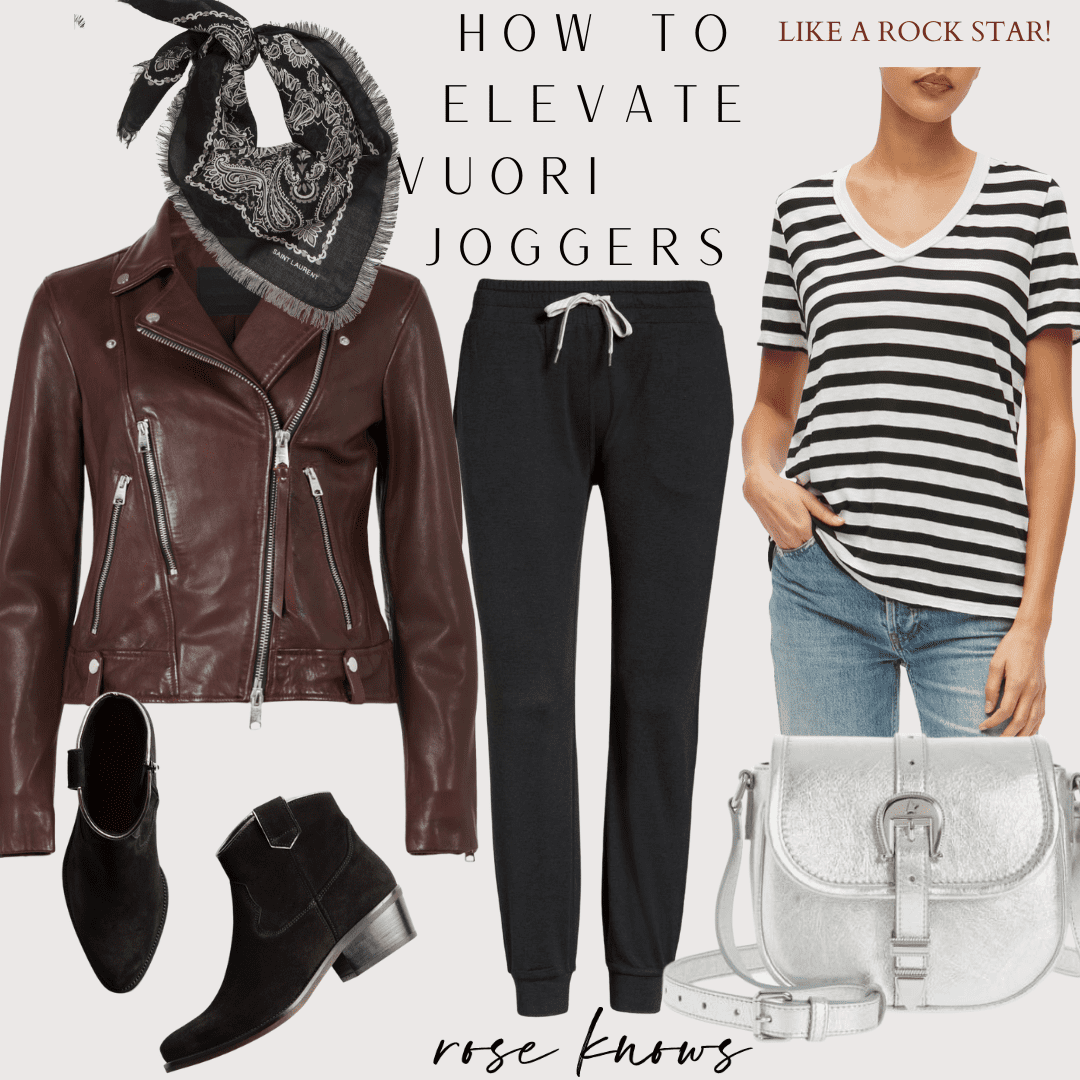 <TAP IHERE TO SHOP>
12
I love a good camo jacket. This one strikes a nice balance with pink embroidered flowers against an unexpected fatigue background. Perfect with joggers!
<TAP HERE TO SHOP>
13
I would add a crisp white tank under this cardigan. I always tell my clients that a nice white background makes the artwork pop and the same is true here.
<TAP HERE TO SHOP>
14
Rails flanel shirts + Vuori joggers = perfect pairings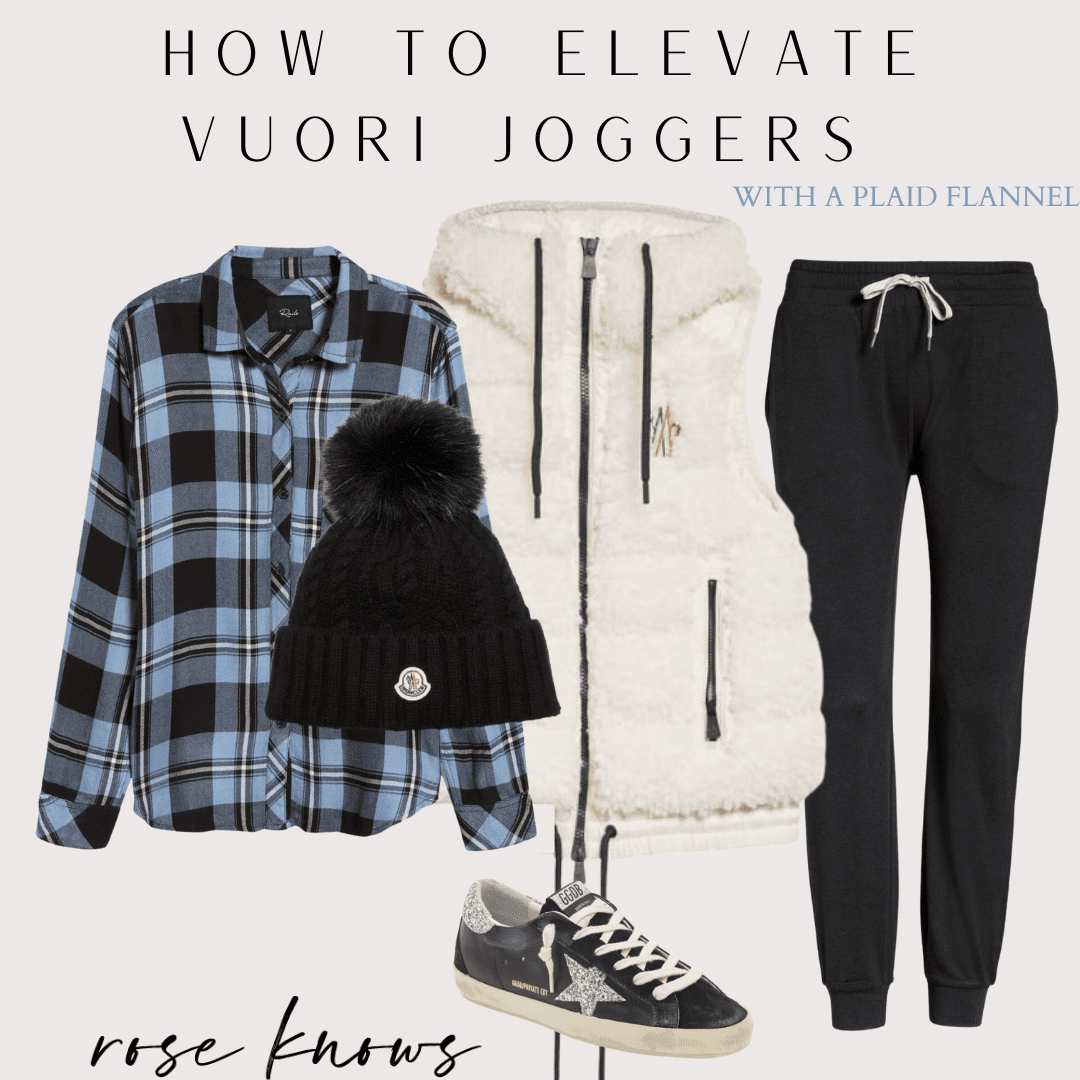 <TAP HERE TO SHOP>
---
Thank you for reading, xx rose
PS. To help me grow, please share with your fashionista Besties!